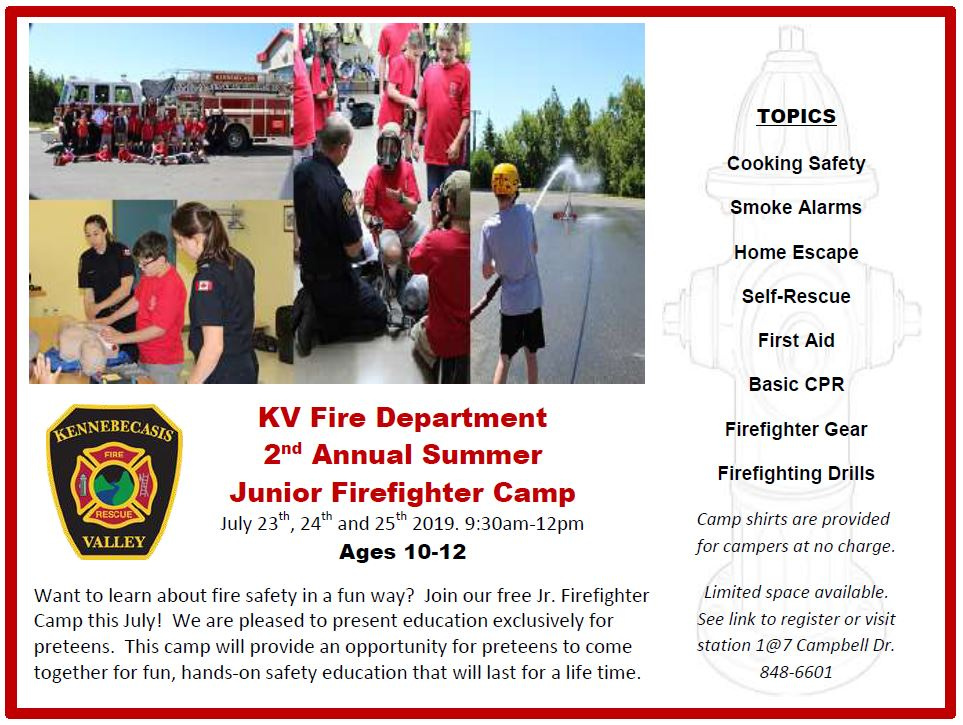 Junior Firefighter Camp

Our 2nd Annual Junior Firefighter Camp is all set for July 23rd, 24th, and 25th from 9:30 am until 12:00 pm for children aged 10 to 12.




Children of this age range are beginning to learn how to be independent at home and begin coming home from school alone and/or spend increasing amounts of time unsupervised.




Our Junior Firefighters can expect a new hands-on activity as well as life safety education each day of camp. The title "Junior Firefighter" allows us to demonstrate some aspects of the firefighter profession while at the same time adding in safety information, i.e. cooking safety and home escape planning.




Space is limited and parents/guardians are required to submit a completed registration form by June 17th to Division Chief Mike Boyle by email at mboyle@kvfire.ca or in person at 7 Campbell Drive.




Registrations will be accepted on a first come, first serve basis.




The registration form is available at Station 1 or by following the link below:




http://bit.ly/2019firefightercamp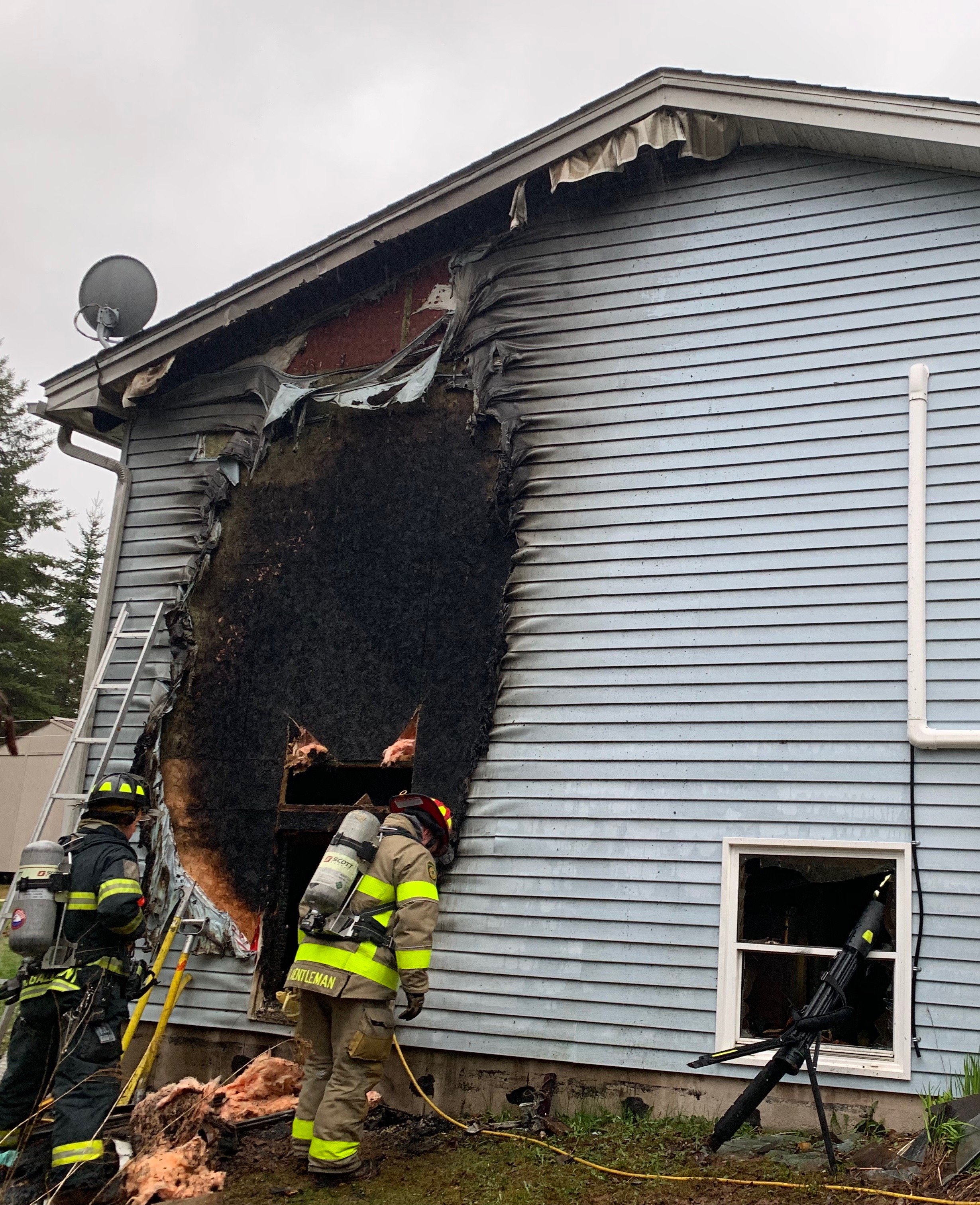 Fire destroys Quispamsis family's home
Around 6 pm Tuesday evening, firefighters were dispatched to a fire on the Chamberlain Road in Quispamsis. On arrival, firefighters encountered fire and heavy smoke in the home. Initial reports indicated that there may have been someone trapped in the basement however after searching the home firefighters confirmed that the house was empty. However they did find the family dog which had perished in the fire.
The home had significant smoke and fire damage. The homeowners were away when the fire occurred and are staying with friends.
Firefighters remained on scene for approximately four hours and the cause remains under investigation.


Finance Administrator (20 hours/week)

The Kennebecasis Valley Fire Department Inc. is seeking a qualified individual to assume the responsibility of Finance Administrator. This is a part-time position that offers a flexible schedule and the ability to perform some of the work off-site.
The Finance Administrator will be responsible for managing accounts payable, accounts receivable, completing payroll and maintaining appropriate financial documentation through an organized system of filing. Other responsibilities will include producing monthly financial reports and year end statements, invoice processing and payment, budget planning, interpretation of the Collective Agreement, maintaining records of paid and unpaid leaves, managing employee benefits and pension and other financial reporting as required.
QUALIFICATIONS & SKILLS:
Post-Secondary Degree or Diploma in Business Administration, Finance, Accounting or other related field.

Strong working knowledge of accounts payable and accounts receivable functions.

Experience with budget, accounting, and reporting systems.

Sound analytical thinking, planning, prioritization, and execution skills.

Ability to respond appropriately in pressure situations with a calm and steady demeanor.

Able to effectively communicate both verbally and in writing.

High standard of professionalism and attention to detail

Strong computer skills including Sage (Simply Accounting) and Microsoft Office

Ability to work independently, exercise sound judgment and maintain confidentiality
QUALIFIED CANDIDATES ARE INVITED TO SUBMIT THEIR RESUME AND COVER LETTER TO:
Fire Chief Bill Ireland 7 Campbell Drive Rothesay, N.B. E2E 5B6
Or by Email to: admin@kvfire.ca
APPLICATION DEADLINE IS MAY 31, 2019.
We thank all applicants and advise that only those selected for an interview will be contacted.
2018 Annual Report
From floods to radio systems, 2018 was a significant year for the KVFD. Have a look back at 2018 by reviewing our annual report.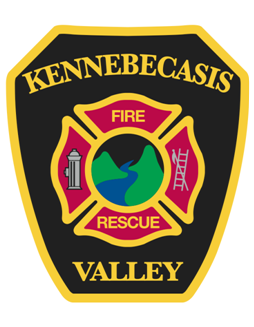 Fire Damages Home in Quispamsis
February 11th, 2019
A home on Sunrise Drive in Quispamsis had significant fire and smoke damage after a fire early Sunday evening. Firefighters were dispatched around 6 pm after a passerby noticed smoke coming from the home. After making entry they found the kitchen heavily involved in fire and extinguished it quickly, however the home had smoke damage throughout.
No one was home at the time of the fire and there were no injuries. 10 firefighters were on scene for 3 hours to complete overhaul of the home.
The cause of the fire was accidental.
Joint Mental Health Initiative
February 4th, 2019
The Kennebecasis Valley Fire Department, in partnership with the Kennebecasis Firefighter's Union, is pleased to announce the launch of its Joint Mental Health Initiative. This initiative, with a simple goal of keeping our members healthy, has four main areas of focus including both preventative and reactive measures.
These areas include prevention (stigma, resiliency, education, workplace culture) emergency response (during and post incident), organizational crisis, and individual issues ranging from family issues to PTSD.
With support from our IAFF Peer Support members, our Chaplain, Dr. Bruce Smith, and members of our management team, the department is proud to support our members with this initiative. Throughout the month of February, the department will be delivering a "Road to Mental Readiness" refresher course to our members and hosting Michael Johnston, founder of Hope for Heroes Canada, to discuss PTSD.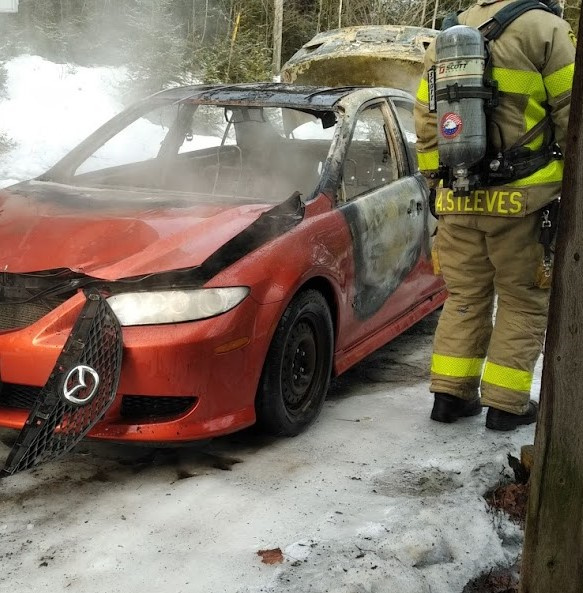 Busy Weekend for KVFD Firefighters
January 28th, 2019
Friday night began a busy weekend for KVFD firefighters with an accident on Highway 1 and at the same time a smell of gas in a home in Quispamsis. On Saturday in French Village, a car was destroyed by fire and damaged a nearby garage. Later that afternoon, Tank 1 assisted Hampton Fire Rescue with water supply for a fully involved garage fire. Saturday evening firefighters assisted the Kennebecasis Regional Police with scene lighting and an area search while they searched for a missing person in Rothesay.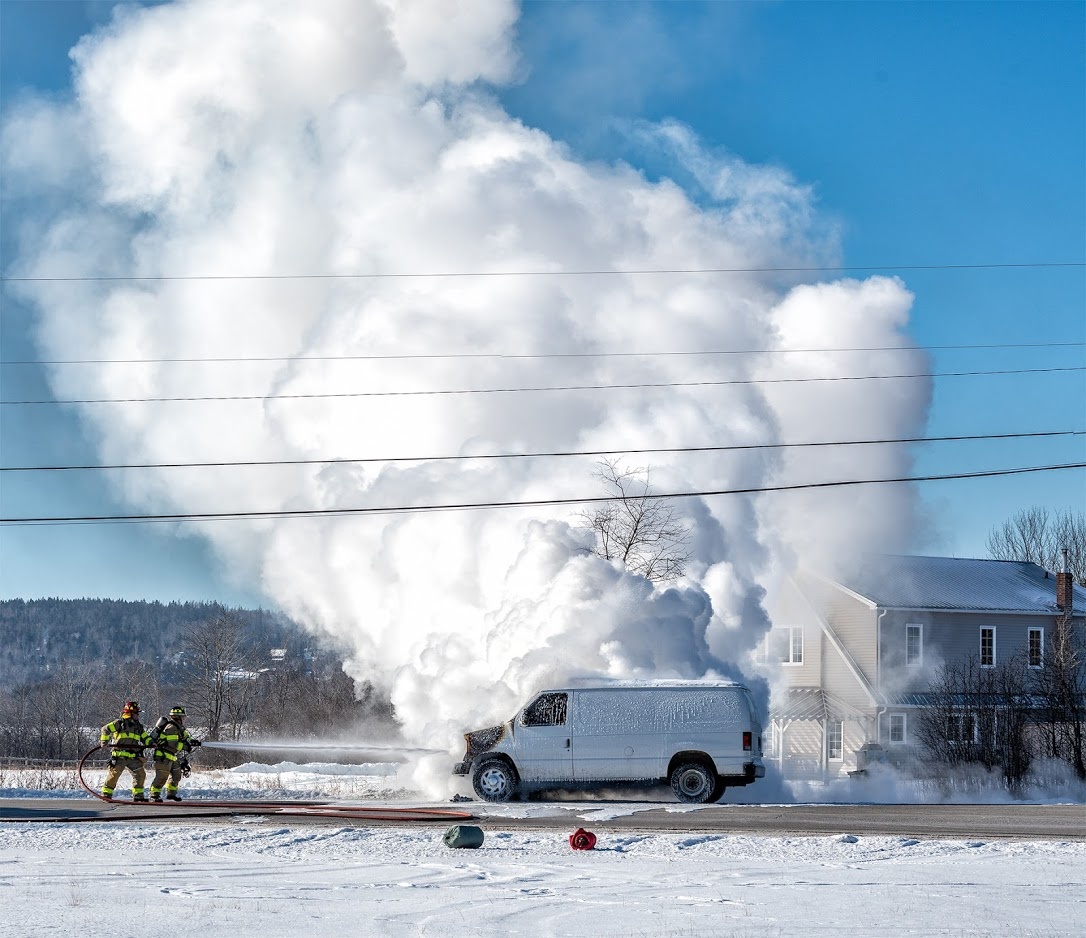 Van Damaged by Fire in Quispamsis
January 14, 2019
The KVFD was dispatched for a vehicle fire on the Hammond River Road in Quispamsis just after 11 am today. The engine compartment of a utility van was fully engulfed in flames and it was extinguished quickly by the responding firefighters. The cause is under investigation.
Shortly after, firefighters responded to a dumpster on fire on Sierra Avenue in Rothesay.

Photo credit: Paul Wood