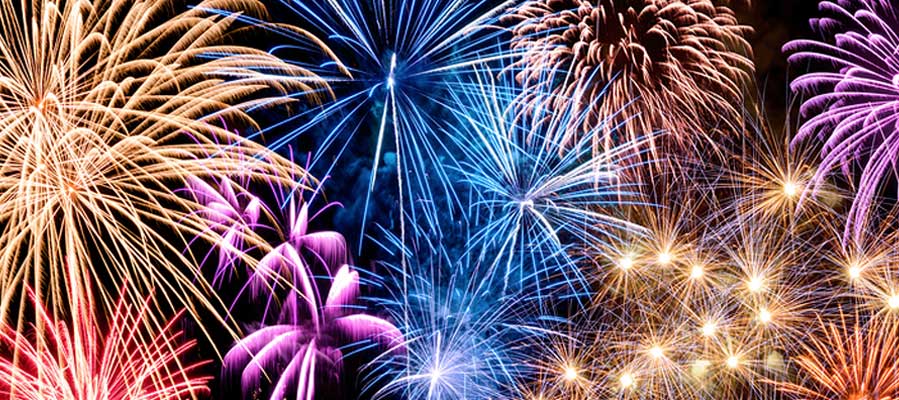 New Year's Eve and Fireworks
While New Year's Eve is a time for celebration, if you plan on using fireworks please do so safely and follow the requirements set out in the Fire Prevention bylaw for Rothesay or Quispamsis (they are identical bylaws). An important note about fireworks: you may be liable for injuries or damages that result from the use of fireworks.
Remember, if you are planning on having fireworks tonight, you must:
Provide and maintain fully operational fire extinguishing equipment ready for

immediate use and present at all times for a reasonable period thereafter, at the

location or site of the setting off of the consumer fireworks. This includes having

knowledge of the operational procedures associated with said fire extinguisher

equipment;

Follow the manufacturer's requirements for the discharge of the fireworks;

Comply with the Municipality's Noise By-law;


Permit the inspection of any site where consumer fireworks may be stored, set off or

displayed, and the consumer fireworks themselves, together with all associated e

quipment, by anyone authorized to enforce this By-law, forthwith upon demand;




No person shall store, handle or set off Consumer fireworks in an unsafe manner or in a

manner that creates a nuisance, taking into account the noise, danger from fire and explosion,

and risk of death, injury and damage to property inherent in the storage, handling or use of fire

works;
Bylaws are available on both town's websites.
The Kennebecasis Valley Fire Department (KVFD) is inviting applications for the position of Fire Chief.
Follow this link for more information:
Fire Chief
ROTHESAY, NB – The Kennebecasis Valley Fire Department is looking for a new chief.

After more than 10 years at the helm of the KVFD, Bill Ireland is leaving his post to take a senior management position with a municipality outside the province.
"I have thoroughly enjoyed my time with the Kennebecasis Valley Fire Department," Ireland said. "The men and women under my command provide exemplary service to the 30,000 residents of Quispamsis and Rothesay. I want to thank them for their dedication and commitment."
Ireland joined the KVFD in March 2009 as division chief. He succeeded Larry Greer as fire chief in April 2010. The native of Burk's Falls, Ont. has been a professional fire fighter for 32 years.
"We have a first-class fire service in the Kennebecasis Valley," said Quispamsis Coun. Kirk Miller, the chair of the KV Fire Board. "Although we are sorry to see Chief Ireland go, we wish him the best. His successor will have big boots to fill."
Miller said the fire board accepted Ireland's resignation with regret, and the search for a new chief will begin immediately.
Ireland will remain on the job until Feb. 4. Deputy Chief Dan McCoy will become the acting chief upon Ireland's departure until the new chief is hired.
Media contacts:
KVFD Chief Bill Ireland 506-848-6601
KV Fire Board Chair Kirk Miller 506-651-1199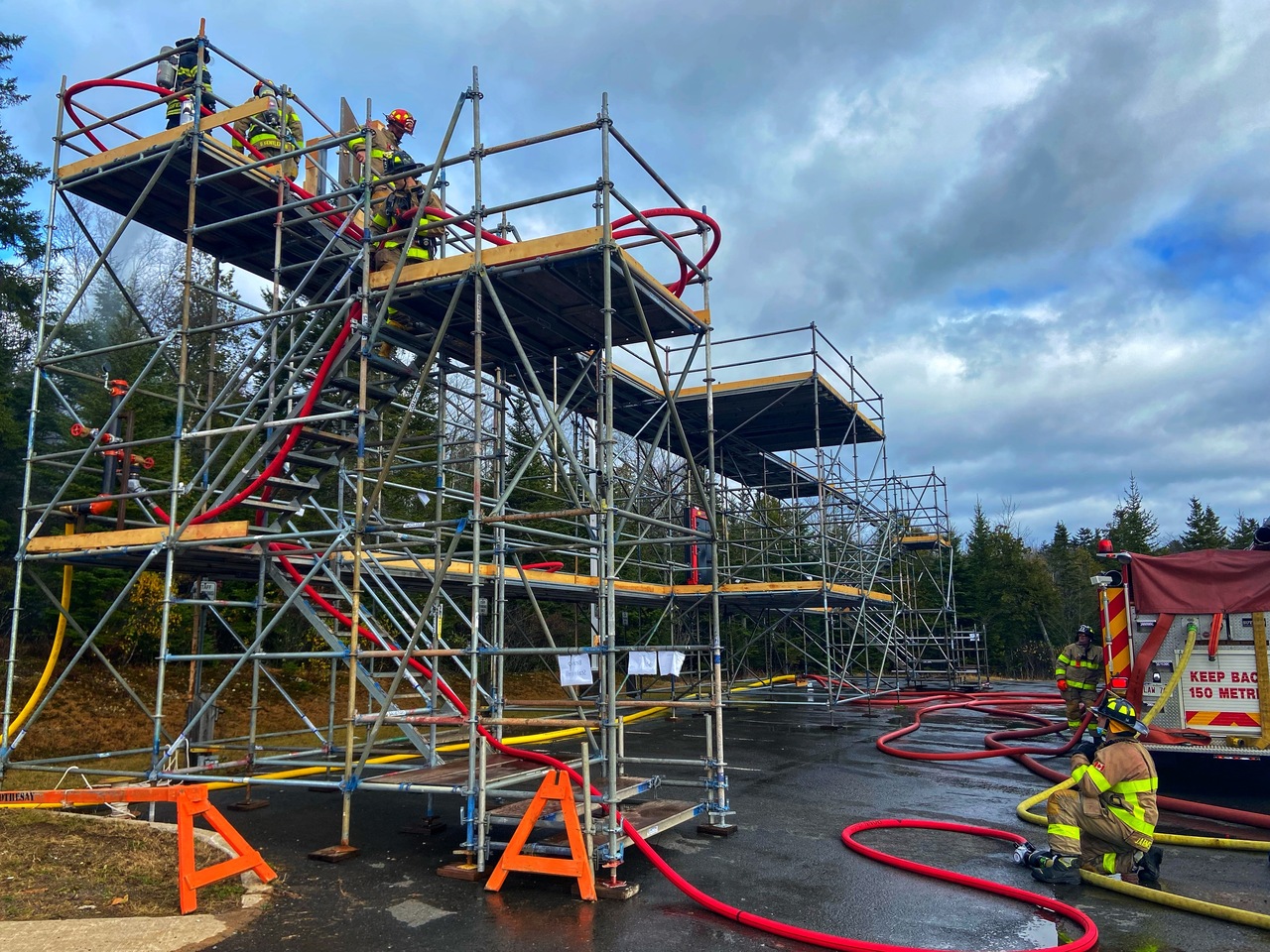 Training Focuses on Larger Buildings
In 2021, the KVFD made a $30,000 investment in new equipment and specialized training to be better prepared to fight fires in higher-risk buildings, including those with three or more floors. This November, all department members have been training on tactics and strategies for fighting fires inside these buildings. As part of our training program, the department had a three-level scaffolding structure built to simulate the stairways and hallways found inside these buildings. Fire department members also constructed a standpipe prop that has allowed for realistic hose connections during the training. As a registered agency with the Commission on Fire Accreditation International, the KVFD has adopted a continuous quality improvement process that includes analyzing risk and using data to measure outcomes against adopted standards. Part of this process includes improving our fire prevention and firefighting response to larger buildings in our community. For more photos, click on the link below:
Facebook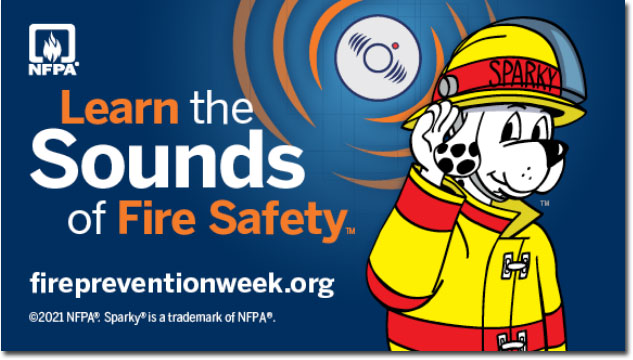 Fire Prevention Week 2021 "Learn the Sounds of Fire Safety"
October 1, 2021
This year's campaign, "Learn the Sounds of Fire Safety!" works to educate everyone about the different sounds the smoke and carbon monoxide alarms make. Knowing what to do when an alarm sounds will keep you and your family safe. When an alarm makes noises – a beeping sound or a chirping sound – you must take action! Follow us on Facebook for messages about fire safety and smoke alarms during this year's Fire Prevention Week.

Forest Fire Season 2021
April 19, 2021
Today is the first day of the New Brunswick forest fire season for 2021. With the opening of the season and the nicer weather approaching, this is a reminder to homeowners who would like to have camp fire in their yard that there are municipal bylaws that govern recreational fires (camp fires).

You can find more information by clicking on the "FAQ" page here.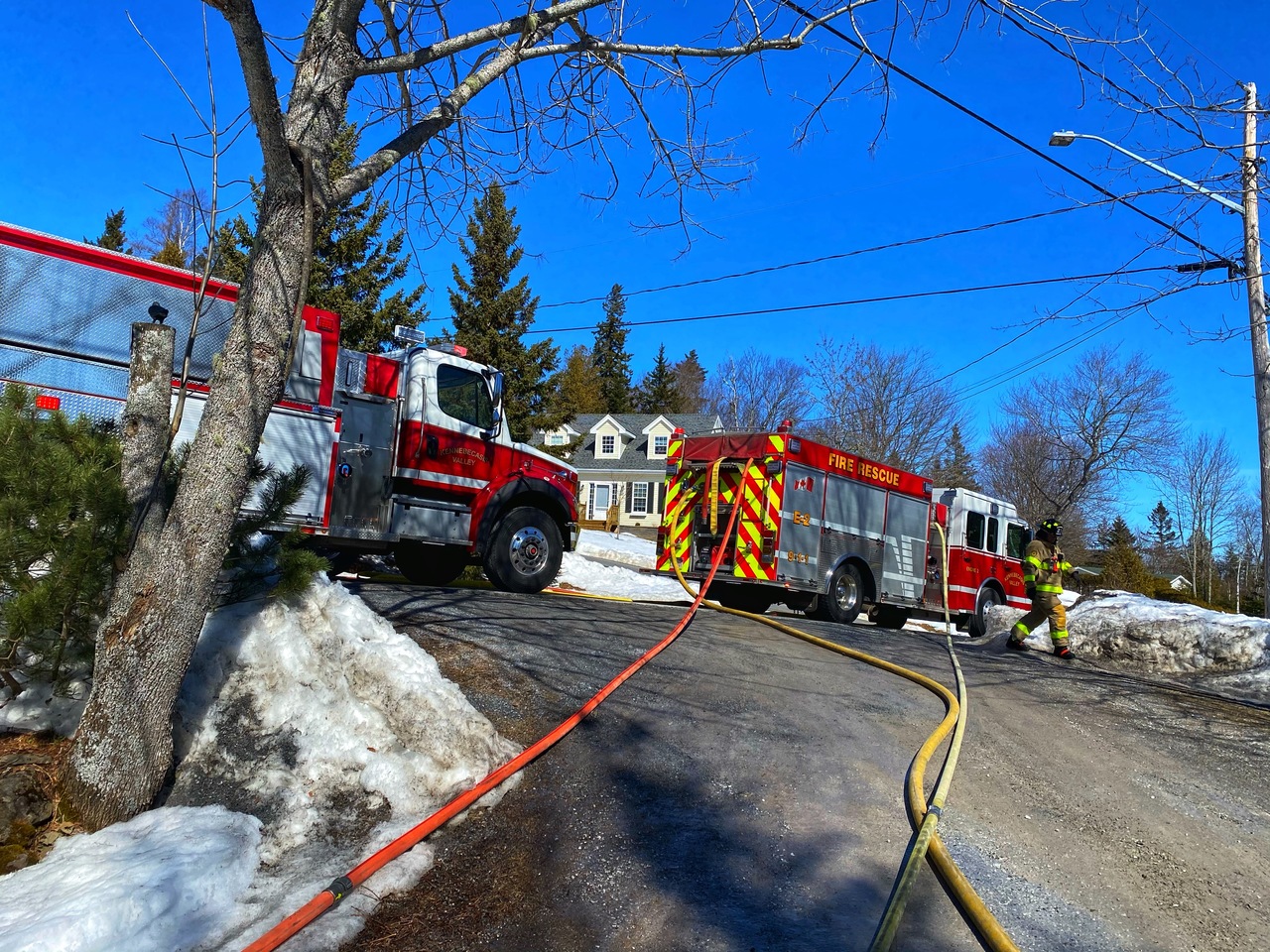 Garage Destroyed by Fire
March 15th, 2021
A garage was destroyed by fire on Saturday morning in Quispamsis. Around 12:30 pm, firefighters were dispatched for a structure fire on Leeswood Drive. When they arrived, the garage was fully involved in fire and firefighters focused on saving the nearby home, which was not damaged. The cause is under investigation. Mutual aid for water supply was provided by Nauwigewauk Fire Department and Hampton Fire Rescue.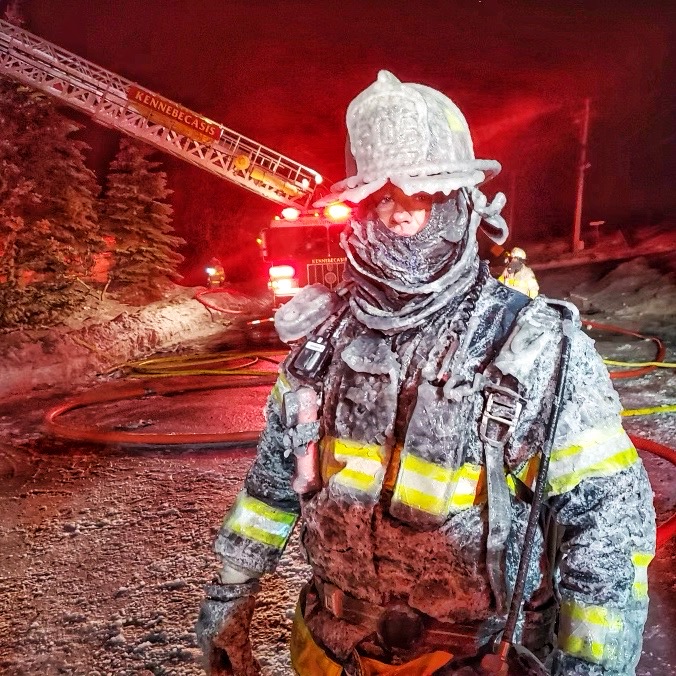 Structure Fires in Rothesay and Quispamsis
March 3, 2021
With wind gusts hitting 80 kilometers per hour and temperatures around -12C, firefighters battled two structure fires yesterday.
The first fire off of Grove Avenue in Rothesay was reported by a passerby around 3:30 pm; once firefighters arrived on scene the house was fully involved in fire and was totally destroyed. The family of two was not home at the time. One firefighter sustained a minor injury from a slip and fall but otherwise no one was hurt. The cause remains under investigation.
A second fire on the Gondola Point Road was reported at approximately 8:45 pm; a fire in the roof grew quickly beyond control because of the high wind conditions. The family was able to escape without injury and the home has significant fire and water damage and is also being investigated.
We would like to thank the many agencies who assisted us yesterday:
Kennebecasis Regional Police Force Ambulance New Brunswick paramedics,
Rothesay Town of Quispamsis water and works departments, NB Power crews, and
Hampton Fire Rescue
, Simonds Fire Depar
tment, Saint John Fire Department, and Nauwigewauk Fire Department for mutual aid assistance.
2020 Annual Report
February 5th, 2021

Our 2020 annual report is now available; please click on the link below to view the report.
2020 Annual Report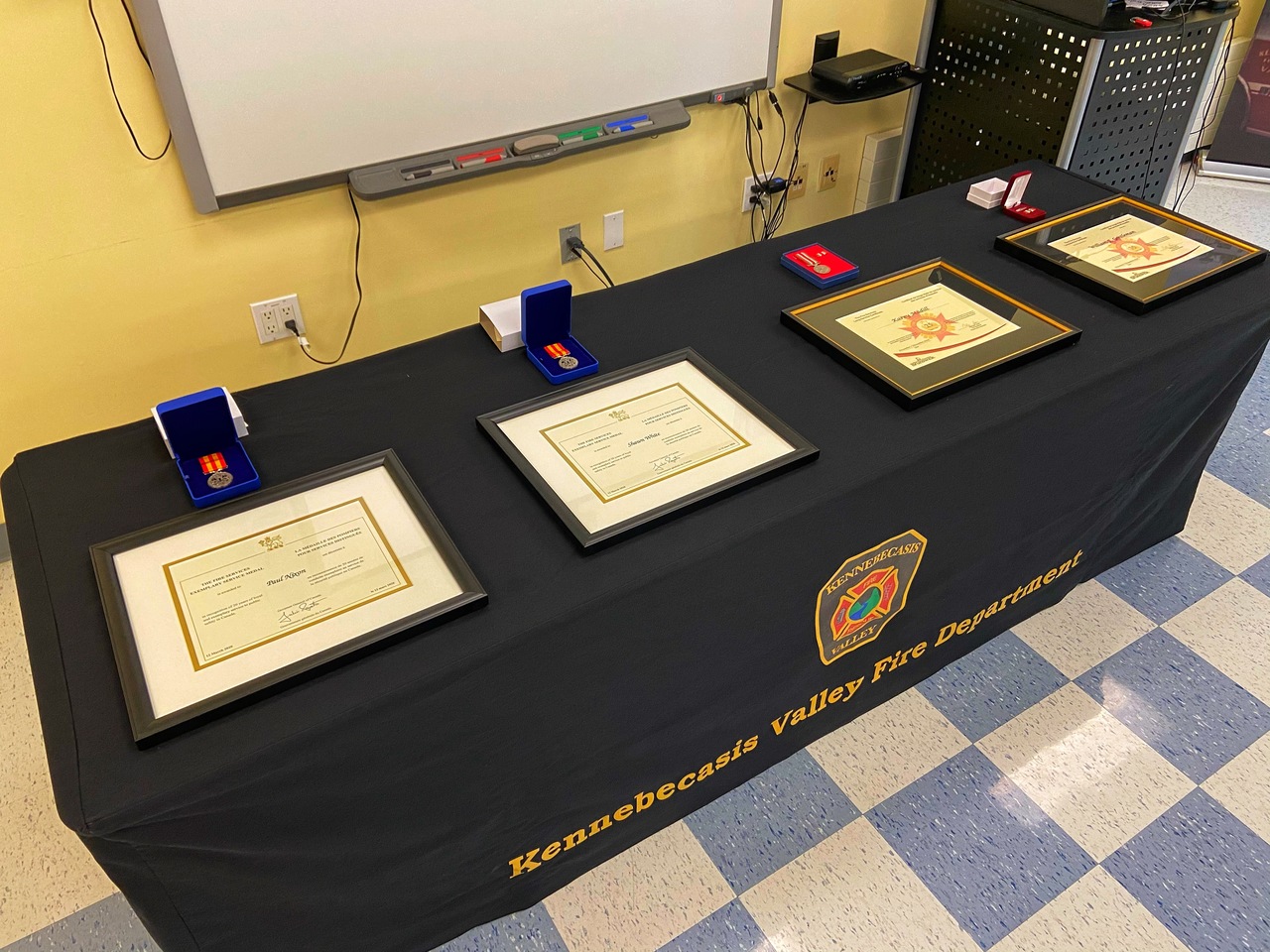 Long Service Recognition
December 18, 2020
Although the COVID-19 pandemic changed our formal recognition ceremony, we were still able to present long service awards to several of our members. Throughout the week members were recognized for their dedication to the fire service.
These awards recognize provincial and federal long service awards that were achieved between January 2018 and December 2019.
In addition to the long service awards, eight members received a letter of commendation for their actions at a rescue incident in early 2020.
Chief Bill Ireland presented each member with a certificate and pin, medal or bar for years of service.
The members honoured include:
Firefighter Scott Carr, provincial 15 year pinFirefighter Keith Scichilone, provincial 15 year pinFirefighter Don Kearney, federal 20 year medalFirefighter Scott Hatt, federal 20 year medalSenior Firefighter Mike Nixon, federal 20 year medalLieutenant Paul Nixon, federal 20 year medalDivision Chief Shawn White, federal 20 year medalDivision Chief Mike Boyle, federal 20 year medalFirefighter Bruce Leblanc, provincial 25 year medalFirefighter Scott Dunbar, provincial 25year medalFirefighter Karey Madill, provincial 25year medalLieutenant Reg Verner, provincial 25 year medalCaptain John Codling, federal 30 year barFirefighter Eric Boyle, provincial 35 year barFirefighter Rob Hamilton (retired), provincial 35 year barCaptain Bill Gentleman, provincial 35 year bar

COVID-19 Orange Phase
November 20, 2020
Effective midnight tonight, the Saint John region will be moving back to the "orange" phase of the response to the COVID-19 pandemic. Please note the following changes to our fire department's operations during this phase:
No outside visitors except for essential services (maintenance, repair, etc.)

Car seat installations will be limited to installs for newborn infants or expectant parents only.

Any member of the public purchasing a civic sign will be required to wait outside while the sign is prepared

Home inspections are suspended

Site visits are suspended (tours, public events, etc.).
As we have been since the start of the pandemic, you will notice our firefighters taking a number of precautions on emergency calls, such as masks and gowns. We had already implemented social distancing protocols so while we work with the community, we will continue to maintain a social distance of two meters whenever possible.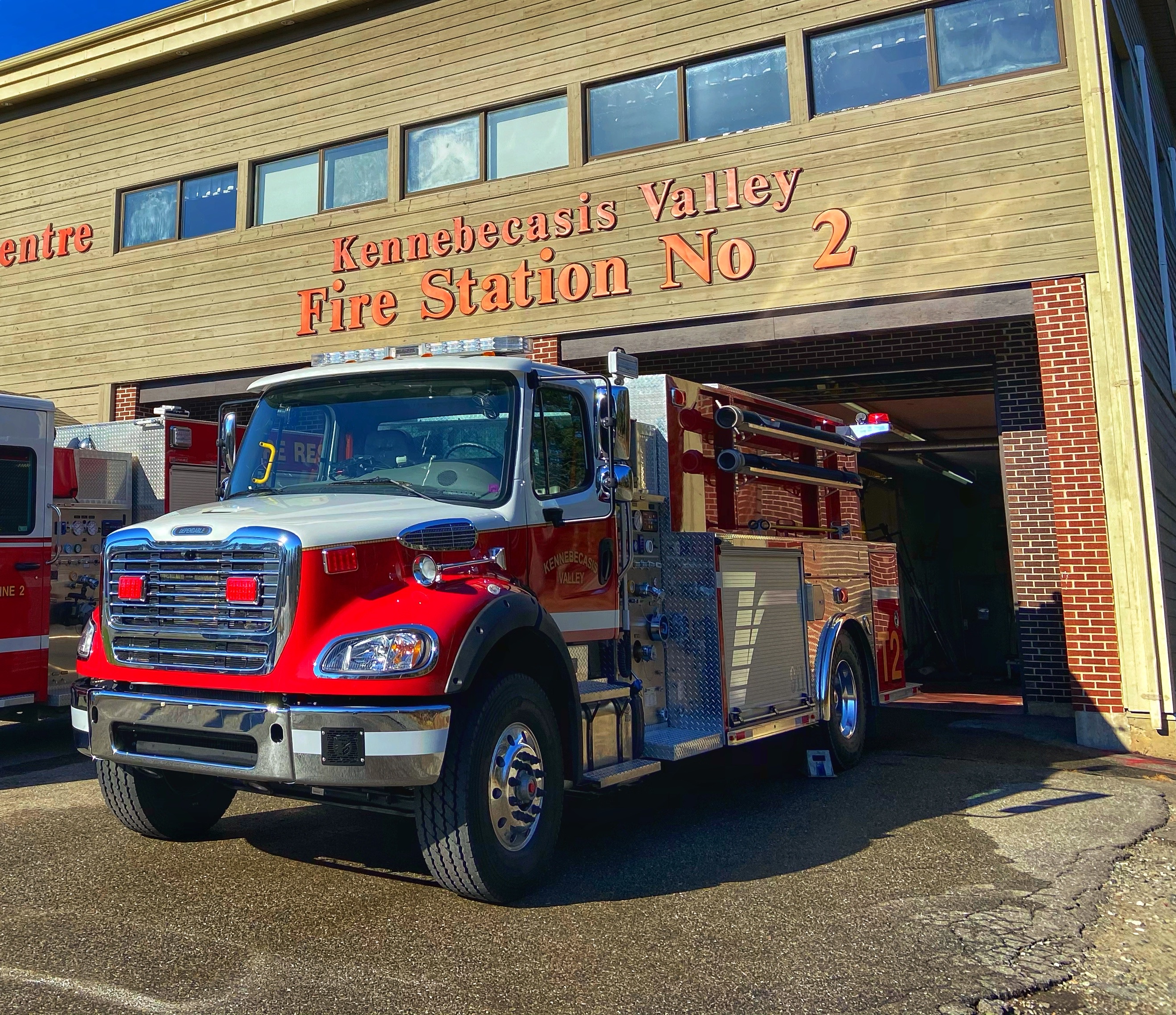 New Tank 2 in Service
November 10, 2020
Following a short ceremony this morning, our new Tank 2 officially went into service at Station 2 in Quispamsis. As part of the ceremony, Chief Bill Ireland spoke about the new truck and Chaplain Bruce Smith gave a blessing.

This was followed by a "wet-down ceremony" where the old truck sprays down the new one and it is finally pushed into the station by the firefighters.
Tank 2 is single axle tanker built on a Freightliner M2 112 chassis with a Dependable tanker body. The apparatus features a Hale AP50, 500 GPM pump with five (5) discharges and a 1800 USG poly tank.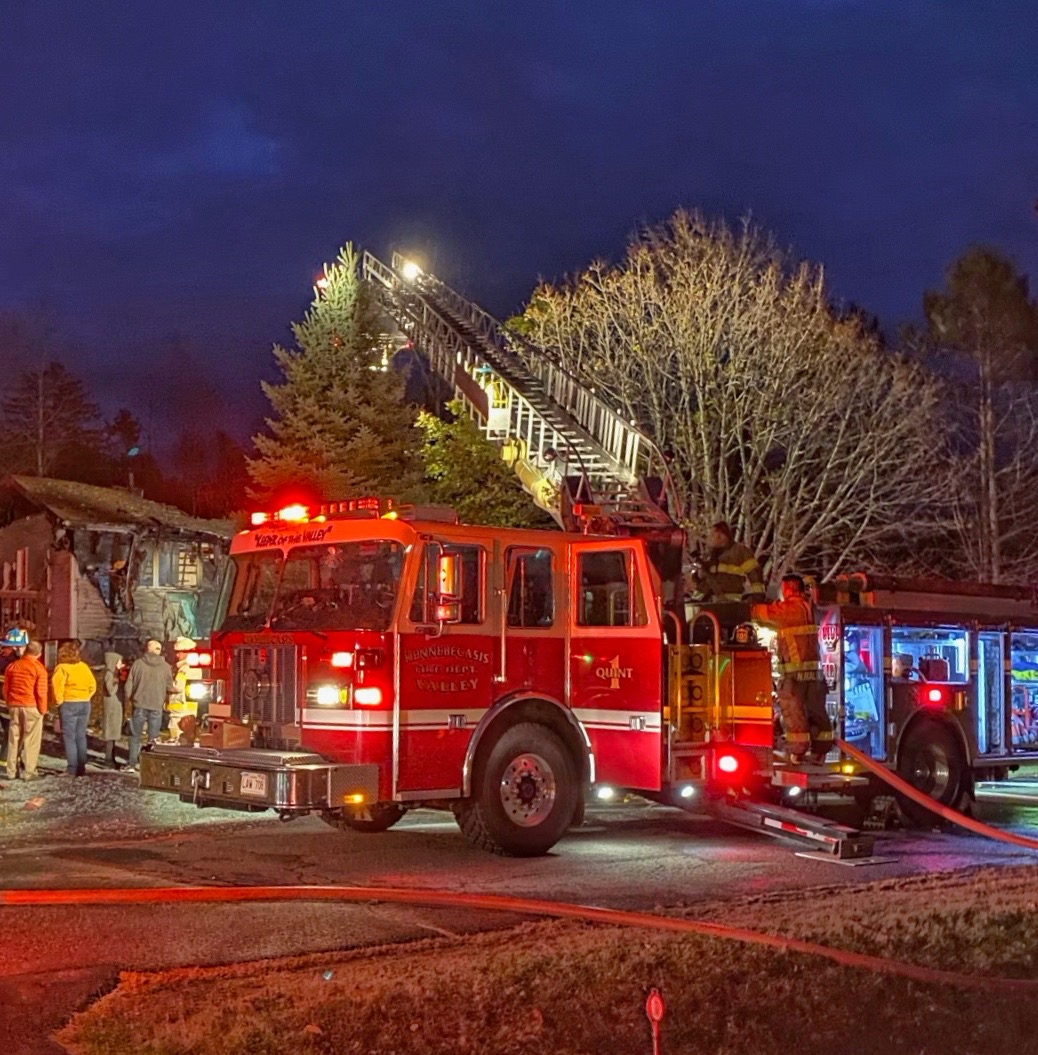 Dogs Saved From Fire
November 2, 2020
At approximately 3:30 pm on Sunday, firefighters were dispatched to a house fire on Roberts Lane in Quispamsis. On arrival, firefighters encountered heavy smoke and fire in the front of the home that extended into the roof. The occupants of the home were away when the fire started and arrived shortly after the firefighters. They reported that their dogs where inside the home and although there was still significant smoke and fire in the home, firefighters were able to rescue the three dogs inside. The occupants are being assisted by the Canadian Red Cross.
On Monday morning around 6:30 am, firefighters were dispatched for another fire, this time on Rosedale Lane in Rothesay. A large shed was completely destroyed by fire and damaged the exterior of the nearby home, although the fire was extinguished before it caused any significant damage to the home.
There was no injuries at either fire and both are under investigation.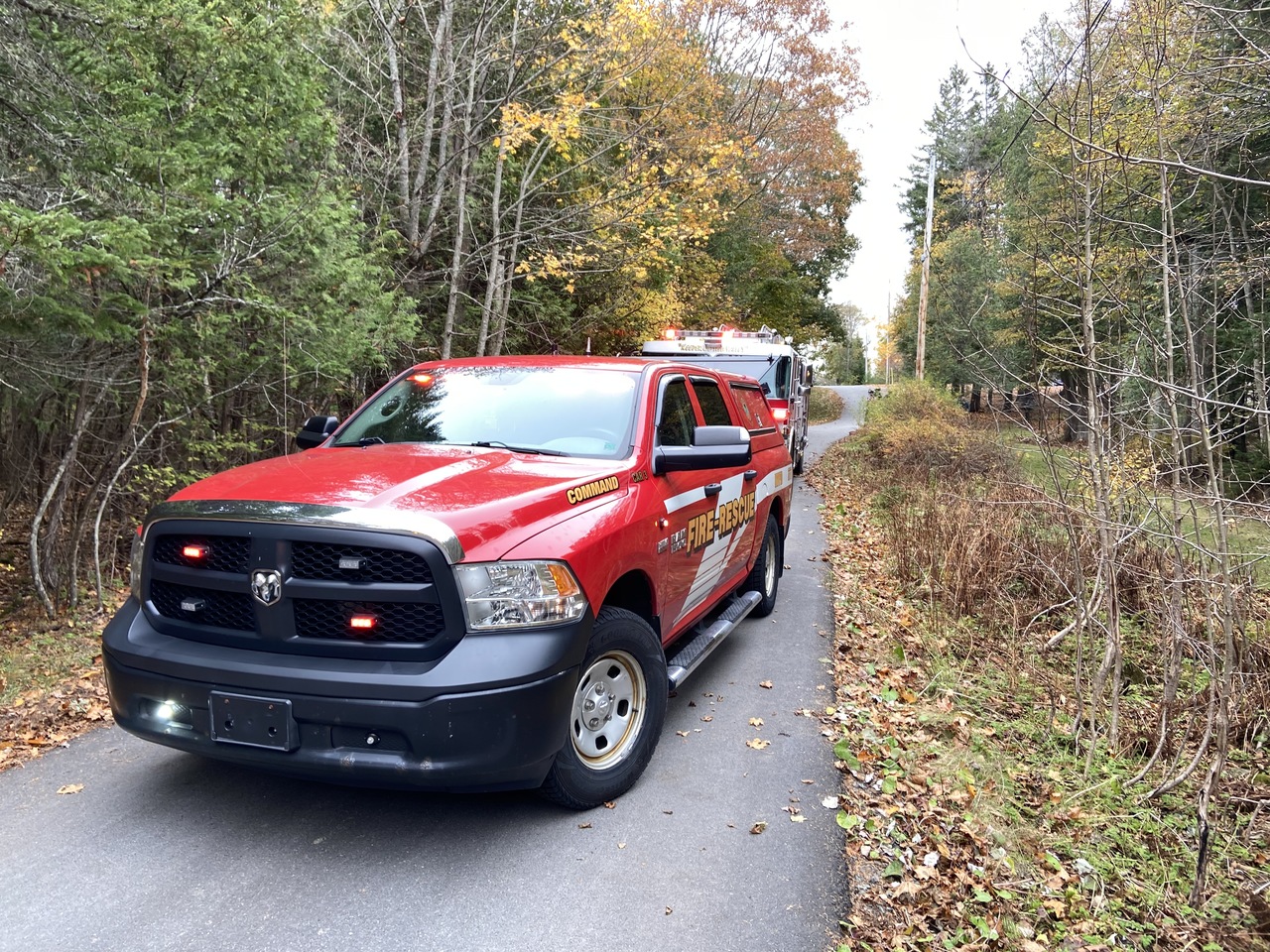 Home Damaged by Fire in Rothesay
October 29, 2020
Two occupants have been displaced from their home in Rothesay after a fire Thursday afternoon. Just before 3 pm, firefighters were dispatched to Hibbard Lane for a structure fire and after making entry they quickly extinguished a fire in the living room. The home suffered significant smoke damage and the occupants are being assisted by the Canadian Red Cross. The cause is under investigation.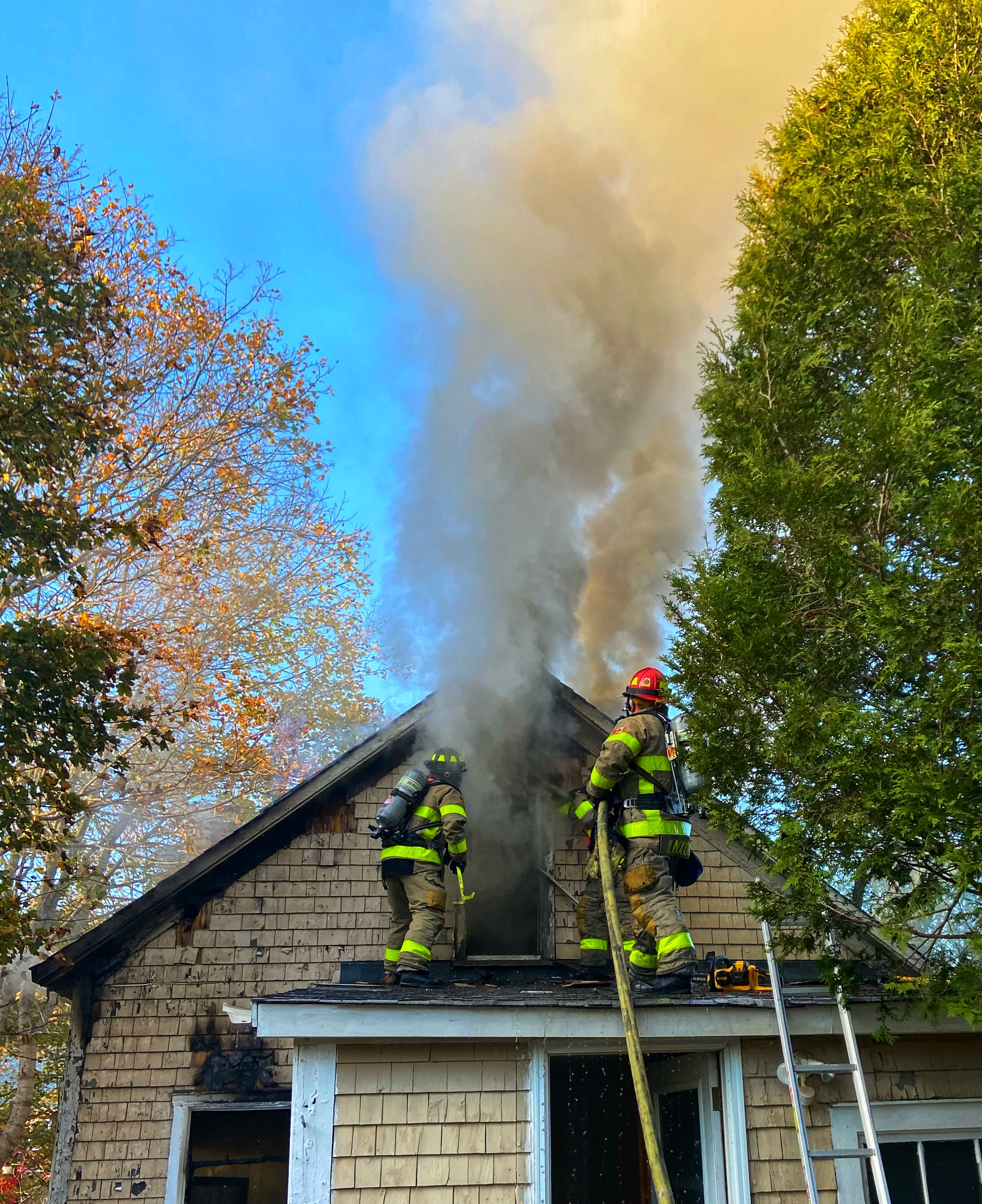 Home Damaged by Fire in Quispamsis
October 26, 2020
Yesterday around 4:30 pm firefighters were dispatched for a house fire on Rafferty Court in Quispamsis. On arrival they found heavy smoke and fire inside the home and after searching the home for any potential occupants inside, spent about four hours extinguishing the fire. The occupants of the home were away at the time and are currently staying with family. The home suffered severe smoke, fire, and water damage. The cause is under investigation.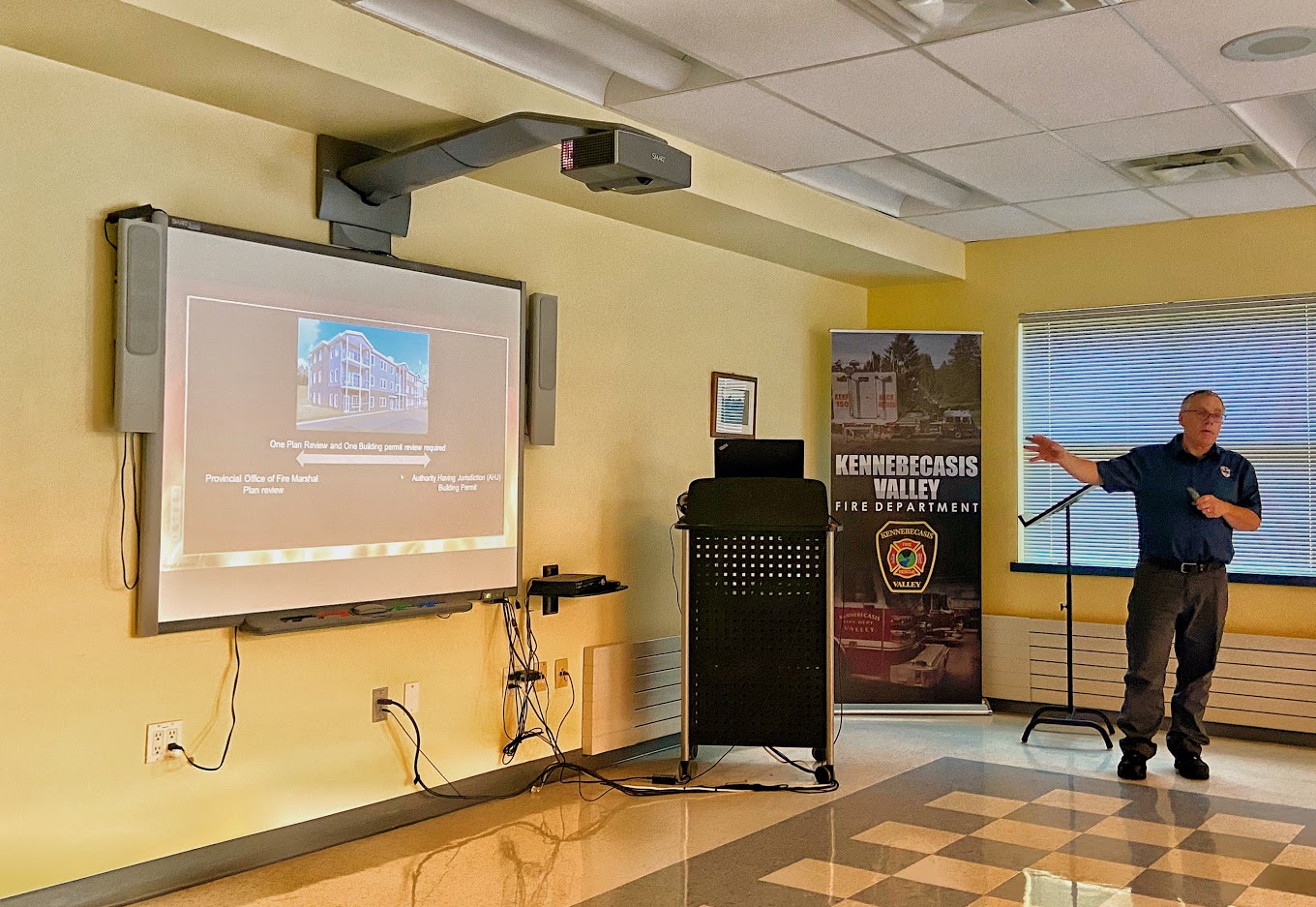 Fire Inspector Training
October 23, 2020
Yesterday our fire inspectors took part in a full day of training on the inspection process and fire and building codes. The department has nine fire inspectors who have completed fire inspection training and are appointed by the Office of the Fire Marshal as Fire Prevention Officers. We would like to acknowledge Sam Walsh from the Office of the Fire Marshal, Steve Nason, Building Inspector for the Town of Rothesay and Trevor Murray, Building Inspector for the Town of Quispamsis for participating in our training day and providing great education for our inspectors. All necessary COVID-19 precautions were taken during the training.

Fire Prevention Week
Fire Prevention Week is October 4th to 10th. This years theme is " Serve Up Fire Safety in the Kitchen!" Cooking is one of the leading causes of home fires and injuries so follow us this week on Facebook for tips on how to stay safe in the kitchen.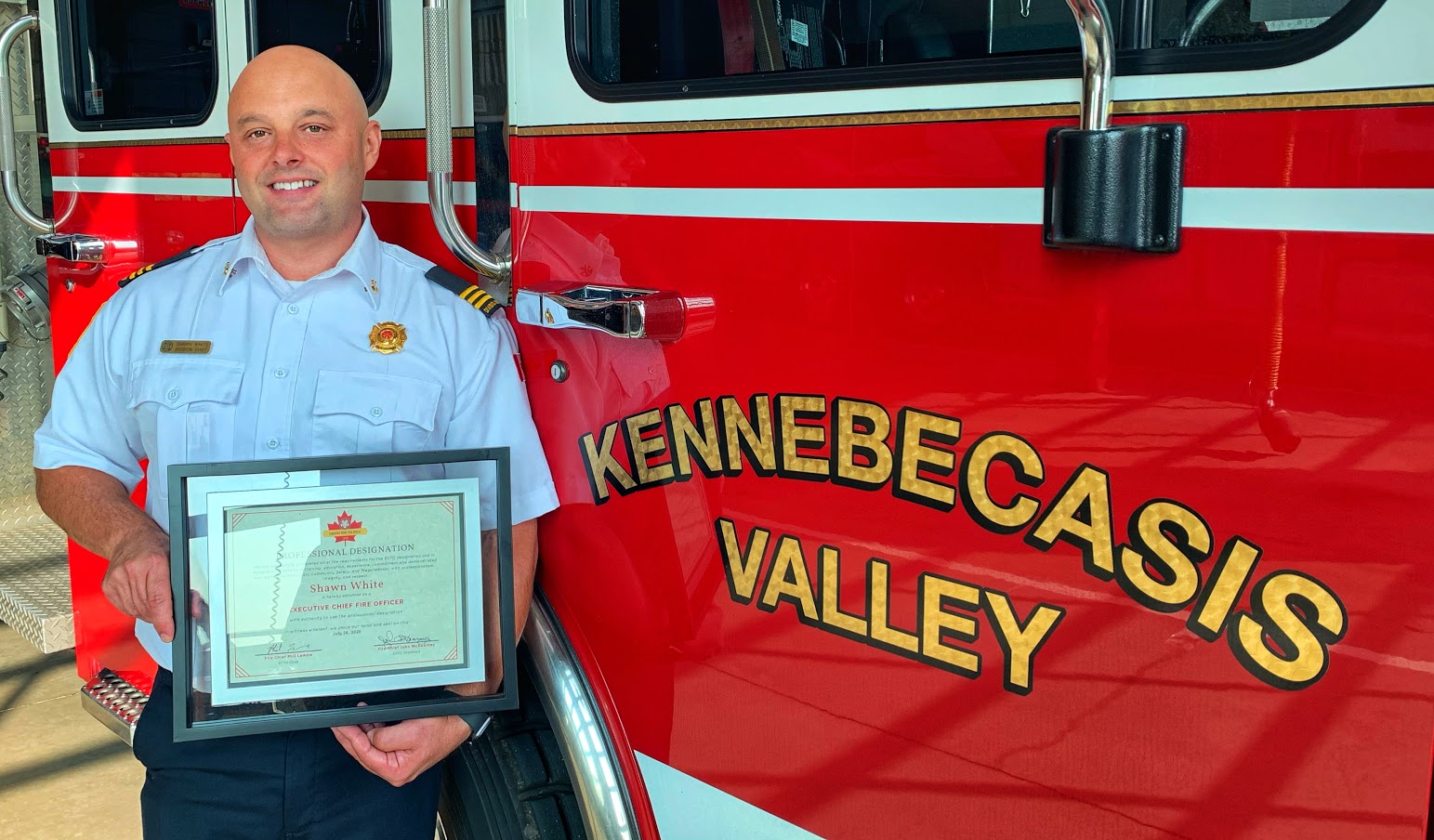 Executive Chief Fire Officer
September 15th, 2020
Last night the Canadian Association of Fire Chiefs held their Celebration of Excellence as part of their annual conference, Fire Rescue Canada 2020, which was held virtually this year. Division Chief Shawn White was one of seven chief officers from across the country who officially received the professional designation of Executive Chief Fire Officer (ECFO).
Also, Senior Firefighter Karen Trecartin was entered in the ECFO Aspire program, a program to help develop aspiring chief officers and she received a bursary to offset the costs of the process.
Launched in 2018, the ECFO professional designation replaced the Chief Fire Officer program in Canada, and acknowledges the fire service leaders who showcase best practices through proving 30 competencies that fall within seven themes: leadership, human resources, governance, business acumen, finance, fire prevention, and fire technical.
The Kennebecasis Valley Fire Department is proud to have the distinction that all four of its chief officers hold the ECFO designation, who are part of a group of only 115 ECFO designated chief officers across the country.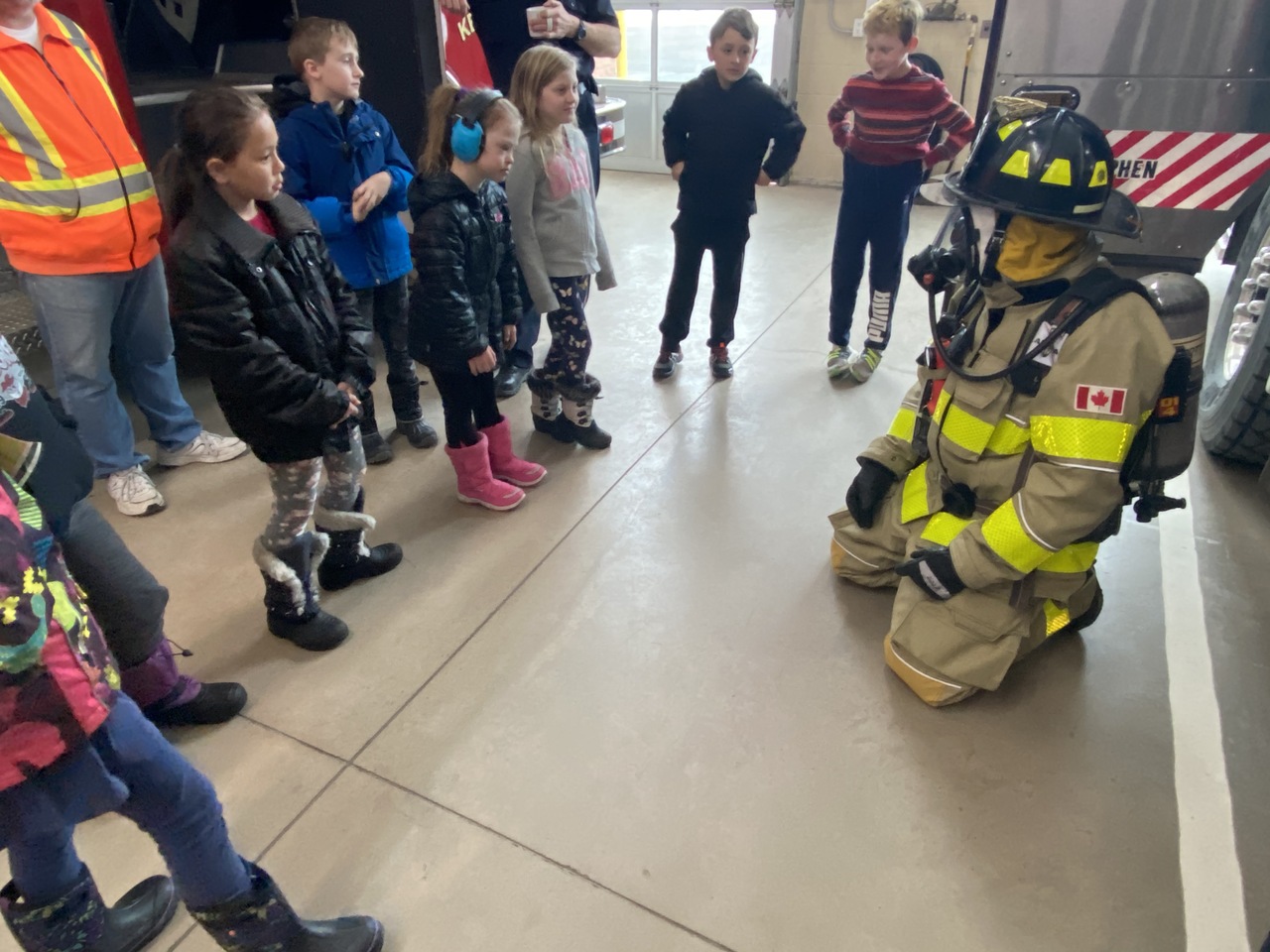 Fire Prevention and COVID-19
August 20, 2020
As a fire department, we are doing our best to balance the safety precautions required for COVID-19 while also serving our community through our fire prevention programs. Below you will see how we have adapted many of our fire prevention programs to match the recommendations by provincial health authorities. These programs and precautions are subject to change based on any COVID-19 or provincial guideline changes.

Station Tours
• Groups of 10 people or less (For larger groups, tours will be offered in groups of 10 while others wait outside)
• Face masks are required for visitors for the duration of the tour
• All visitors must pass COVID-19 screening before entering the station
• All visitors must use hand sanitizer prior to beginning the tour
• Visitors will not enter apparatus and will be encouraged to minimize touching of equipment as much as possible
• The contact information of the tour organizer is required prior to delivering the tour
HomeSafe Home Inspections
• Firefighters will wear face masks for the duration of the inspection
• The homeowner (and other occupants involved in the inspection) will be encouraged to wear a face mask
• A maximum of two firefighters will conduct the home inspection
• Firefighters will sanitize their hands (and any equipment) beforehand and on completion of the inspection
Public Speaking Events
• The department will participate in public speaking events where the occupancy of the facility is based on the ability to maintain physical distancing between people

Site Visits/Public Events
• The department will participate in outdoor events where physical distancing is possible and there are not more than 50 people attending
• Firefighters will wear face masks for the duration of the event
Fire Prevention Week
• The department will deliver social media messages based on the theme of fire prevention week (to be announced)
• The fire department open house will not be held this year

Firefighter for a Day Program
• The educational component will be made available online rather than in person in school
• The contest will be made available online
• The contest winners will visit the station following the guidelines above for station tours
Car Seat Installation
• Car seat installations will take place on an individual basis
• Firefighter will wear a face mask during the installation
• Vehicle owners will be encouraged to maintain physical distancing and to wear a face mask
Fire Department Members Complete Educational Program
July 29, 2020
Four members of the department recently completed the Certificate in Fire Service Leadership program from Dalhousie University. This year long program introduces theories on leadership, operations, and human resources and is the first step towards a broader education in the fire service and opens up opportunities for further career advancement. Pictured below is Deputy Chief Dan McCoy presenting certificates to Senior Firefighter Shane Johnson, Senior Firefighter Shane Day, Firefighter Justin Cowan, and Firefighter Andrew Steeves.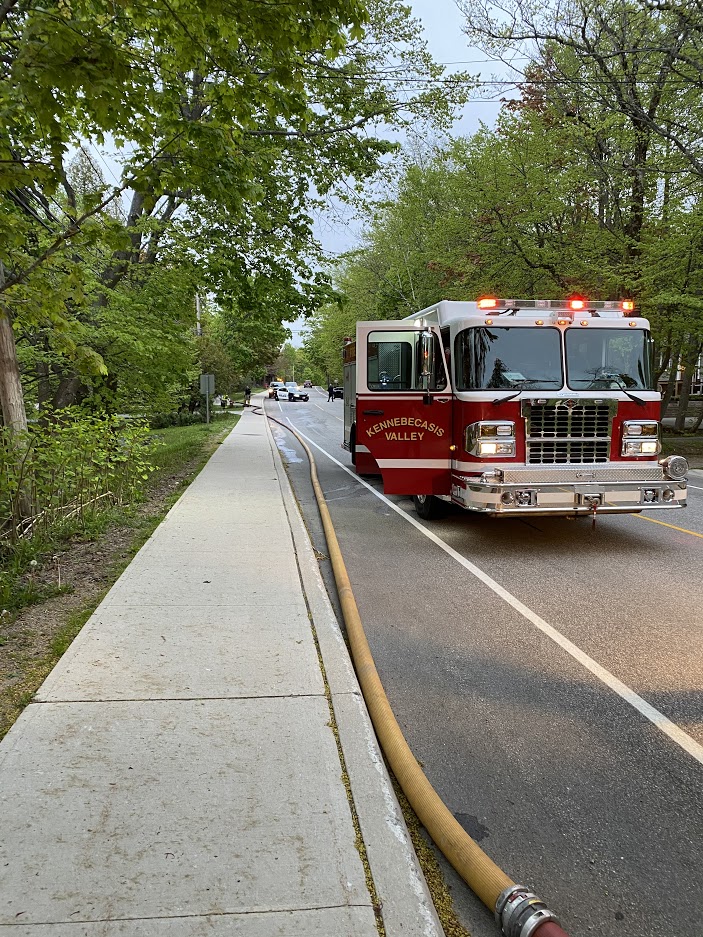 House Fire in Rothesay
June 3rd, 2020
Around 5:30 am this morning, firefighters were dispatched to a house fire on the Rothesay Road, in Rothesay. One of the occupants noticed the smoke and alerted the rest of the occupants who escaped the home with no injuries. Firefighters contained the fire to the basement however the home sustained fire damage in the basement and extensive smoke damage throughout. The cause of the fire is under investigation.
If you have questions about home fire safety or would like a free home safety inspection, please contact us. We can conduct home inspections while taking precautions for COVID-19.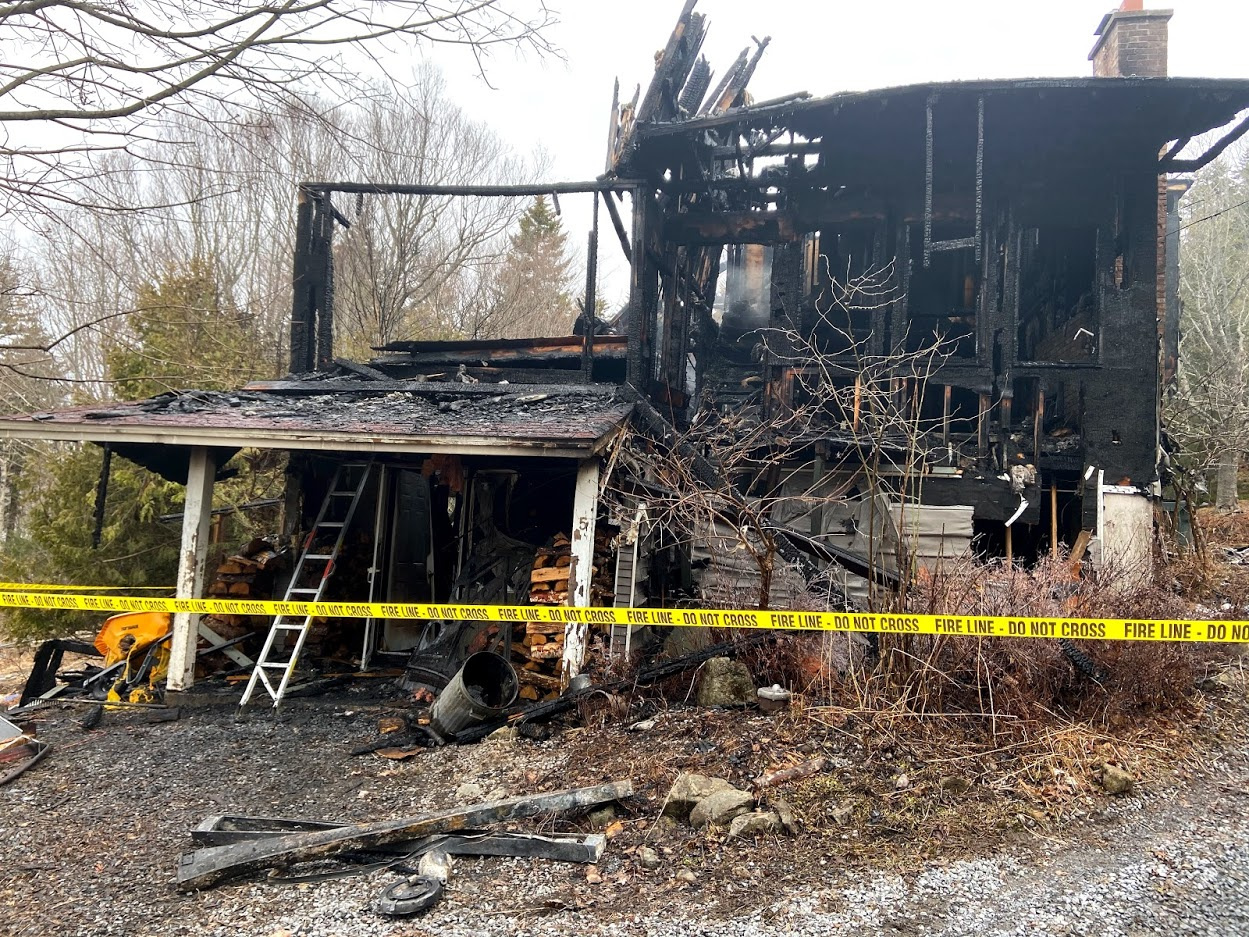 1 Dead, 3 Injured After House Fire in Rothesay
April 5th, 2020
Just before 2 am on Sunday, firefighters were dispatched for a house fire on Bartlett Road in Rothesay. The occupants of the home were alerted to the fire by a smoke alarm and when firefighters arrived, three adults had already escaped the home with the assistance of a neighbour and police, while a fourth was not accounted for. The house was fully engulfed in fire and 17 firefighters were on scene for six hours to extinguish the fire. The three adults were transported by Ambulance New Brunswick paramedics to the hospital with minor injuries while the fourth occupant, a family friend of the occupants, died at the scene. The occupants are being assisted by the Canadian Red Cross. The cause of the fire is under investigation.
2019 Annual Report
Our 2019 annual report is now available. Please take a look back by reading our report here:
2019 Annual Report
Fire in Quispamsis
Just before 5 am this morning firefighters were dispatched to a structure fire on Parkside Road in Quispamsis. A fire in the kitchen was extinguished quickly but the smoke damage has made the home temporarily uninhabitable. Three adults have had temporary accommodations provided by the Red Cross.
Please be sure during this period of social isolation to check your smoke alarms and talk about home escape planning, especially if your sleeping arrangements have changed.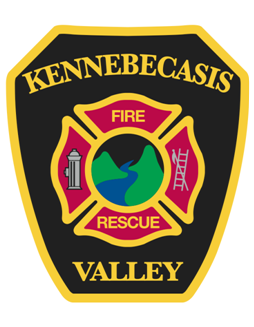 A Statement from Fire Chief Bill Ireland Regarding COVID-19 and the Fire Service
Issued: March 16th, 2020
Like countless organizations throughout the community and around the world, the Kennebecasis Valley Fire Department is actively monitoring the COVID-19 situation. Since this first began to emerge in January and increased as a local threat in March, we have followed guidance provided by provincial health agencies and have taken a number of precautions to help mitigate risk as we focus on the safety and well-being of our community and our firefighters. We are attending meetings and coordinating planning with both towns and other emergency response agencies.
To keep our firefighters healthy so that they are available to respond to emergencies, we are suspending most of our regular fire prevention activities and limiting the visitors allowed into our fire stations. For most normal questions and concerns, we can help you by phone or email, which are listed on our website at www.kvfire.ca.
You will notice a number of precautions that our members will be taking on emergency calls, such as masks and gowns. We are implementing social distancing protocols so while we work with the community, we will respectfully be maintaining a social distance of two meters whenever possible.
This is an uncertain time for all of us. I want to assure you that the Kennebecasis Valley Fire Department and all emergency services remain fully functional. This is a situation that can change rapidly, but through emergency planning and working with our partners, we are prepared to manage impacts on our community and on our department. We are working with the Kennebecasis Firefighters Union to ensure they can help support the families of our firefighters and our community at large.
We will be posting fire safety messages and home safety messages over the next weeks to help keep you safe at home. In the meantime, wash your hands, take care of loved ones, and follow the advice of our health professionals.
For specific information on COVID-19, please visit:
gnb.ca/content/gnb/en/departments/ocmoh/cdc/content/respiratory_diseases/coronavirus.html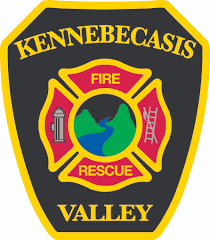 Ice Rescue on the Kennebecasis River
February 2nd, 2020
Just after 11 pm on Saturday night, the KVFD was dispatched for an ice rescue on the Kennebecasis River. Two individuals riding an ATV drove into open water and had to be rescued by firefighters. Details on the individuals and their condition is not available at this time.
The KVFD is advising that residents that currently there are areas of open water on the Kennebecasis River and to use extreme caution when using the ice for recreation. Residents should consult local weather forecasts as well as public alerts from the Government of New Brunswick before using the ice for recreation.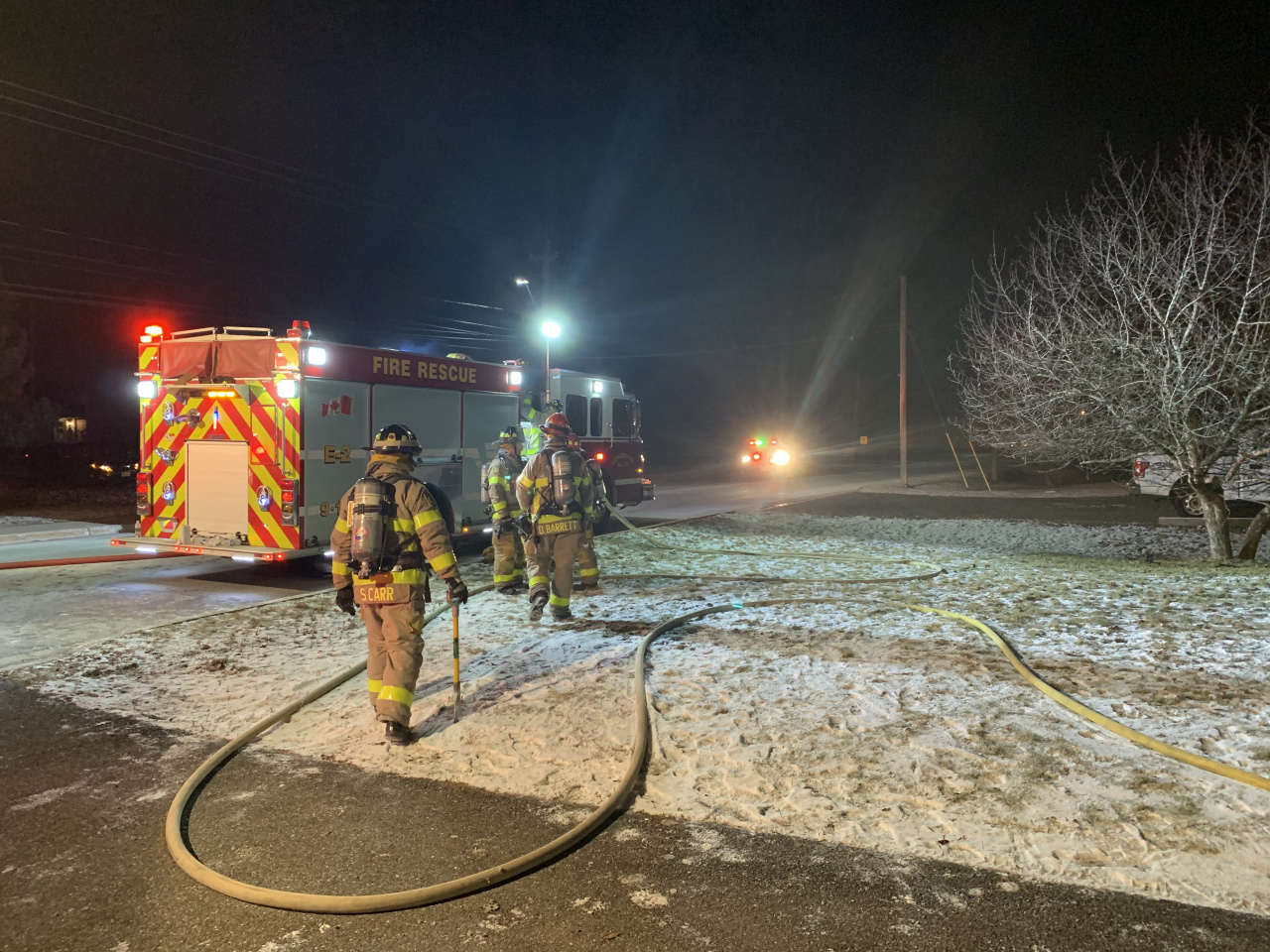 Holiday Relief Firefighter
Interested in a career with us? The KVFD is hiring firefighters for the entry level position of Holiday Relief Firefighter. Follow the link below for information on the job posting and the job application.
If you have questions, message us here .
https://bit.ly/38aw5g9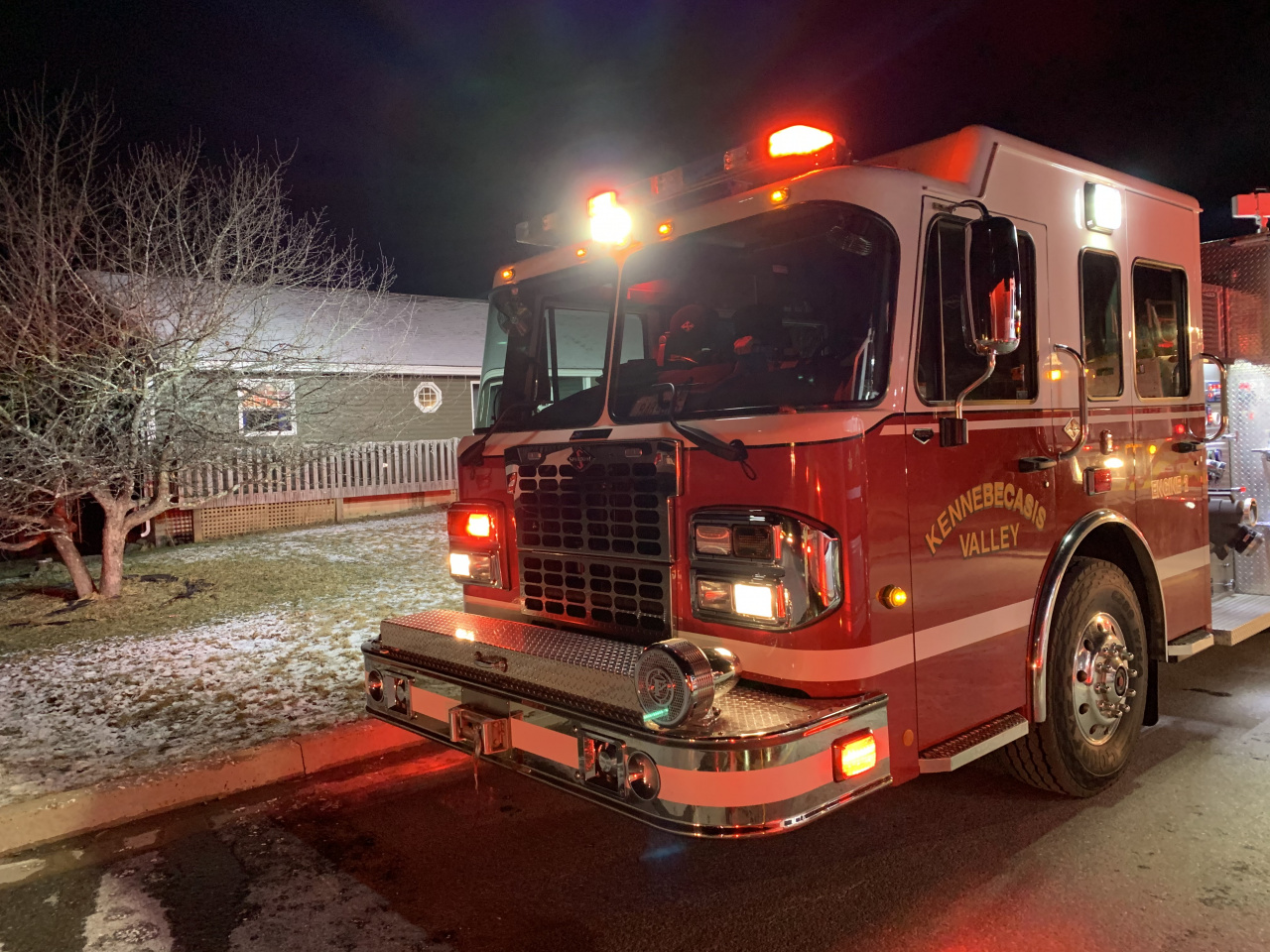 Family Escapes House Fire in Quispamsis
December 14th, 2019
Smoke alarms alerted a family of three to a fire in their basement early Friday morning. Around 3:30 am, a fire started in the basement of a home on the Vincent Road in Quispamsis. Working smoke alarms gave the family time to escape the fire without injury. When firefighters arrived, there was fire in the basement of the home that had extended into an upstairs bathroom and they were able to extinguish the fire quickly. There was fire damage to two rooms and significant smoke damage throughout the home. The Canadian Red Cross was on scene to assist with clothing and accommodations for the residents.
Kennebecasis Regional Police and Ambulance NB paramedics were also on scene. The fire is under investigation.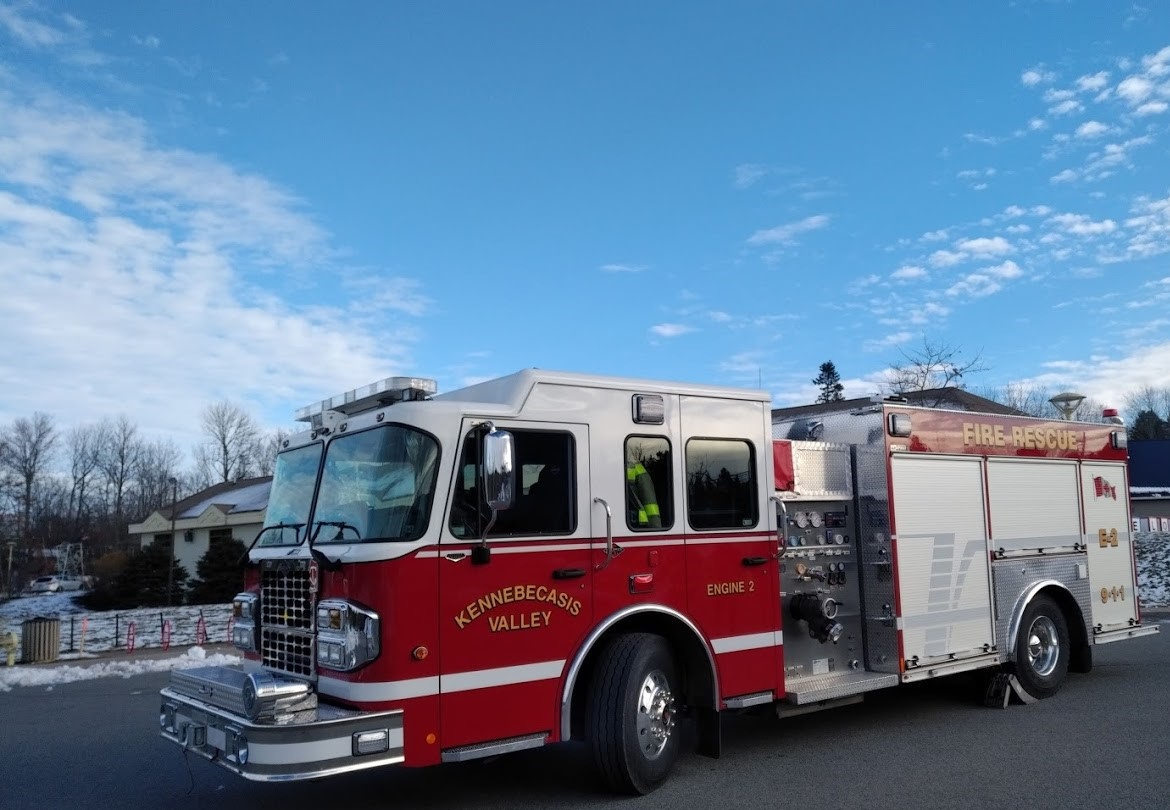 Engine 2
We are pleased to announce that this past weekend on November 30th, 2019, our new Engine 2 was put into service at Station 2 in Quispamsis.

This truck, a 2019 Spartan built by Dependable Fire Trucks, has a 1250 gallon per minute pump, carries 1000 gallons of water, and carries equipment for fires, car accidents, medical emergencies, and all of the other types of emergencies we respond to as a fire department.

This truck replaces the old Engine 2 which after a decade of service on the "front line" will move into a back-up role as an engine.

Fire Department Accreditation
The KVFD is proud to be pursuing fire service excellence by entering the accreditation process with the Commission on Fire Accreditation International. Accreditation is defined by the CFAI as "an all-hazard, quality improvement model based on risk analysis and self-assessment that promotes the establishment of community-adopted performance targets for fire and emergency service agencies." Accreditation is an international recognition of achievement and organizations from a wide variety of professions and industry seek accreditation. From health care to engineering, organizations seek accreditation to demonstrate that they are performing to industry best practices and are holding themselves accountable through an external peer review. As a registered agency with the CFAI, we are just beginning the long but worthwhile journey to fire department accreditation.
Fire Prevention Week 2019
The theme for fire prevention week, October 6th to October 12th, is "Not Every Hero Wears a Cape. Plan and Practice your Escape!" with a focus on home escape planning. Be sure to follow us on
Facebook for daily messages about fire prevention and home escape planning. Also, visit our annual fire department open house on Saturday!
Visitors are encouraged to tour the fire station, view the numerous emergency response vehicles, meet the firefighters, check out the tools, and learn what services KVFD offers. Firefighters will be available to answer any questions you may have about fire safety!

Please join us at Fire Station #1 at 7 Campbell Drive in Rothesay on October 12th between 11AM-2PM!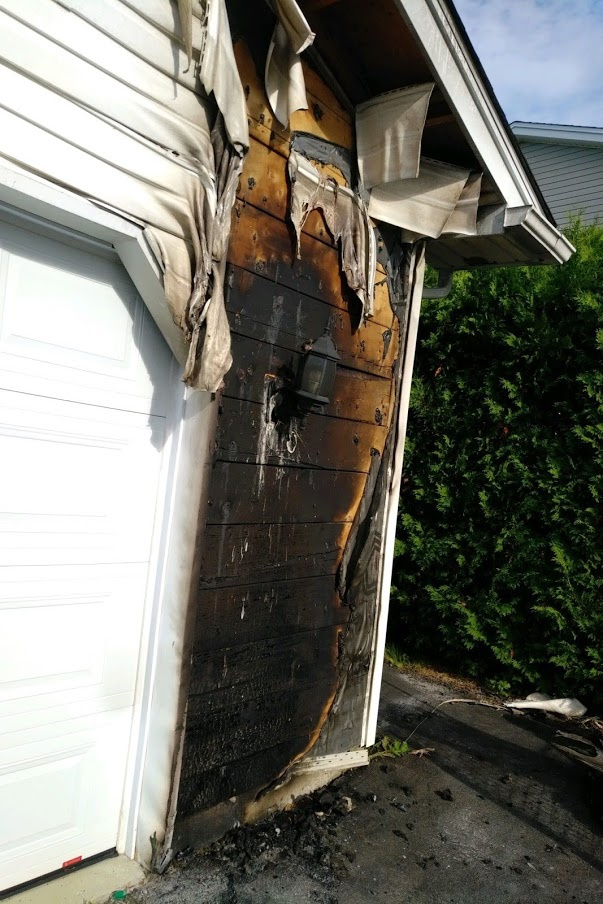 Garage Damaged by Fire
A compost bin that caught fire damaged the attached garage of a home in Quispamsis around 11 pm last evening. Firefighters were dispatched after the fire was discovered and it was quickly extinguished before more significant damage was done to the garage. The cause of the fire is under investigation.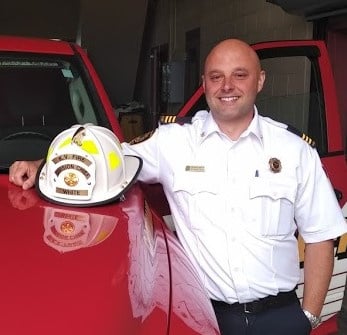 Division Chief Shawn White
The KVFD is proud to announce the promotion of Lieutenant Shawn White to Division Chief. DC White joined the KVFD as a volunteer in 2000 and became a career firefighter in 2004. He was promoted to Senior Firefighter in 2011 and then to Lieutenant in 2015.
DC White holds a Bachelor of Arts from the University of New Brunswick and has completed certificate programs in Fire Service Leadership and Fire Service Administration from Dalhousie University. DC White is a certified fire service instructor and fire inspector and will be responsible for employee development and safety.
We wish Shawn all the best in his new position.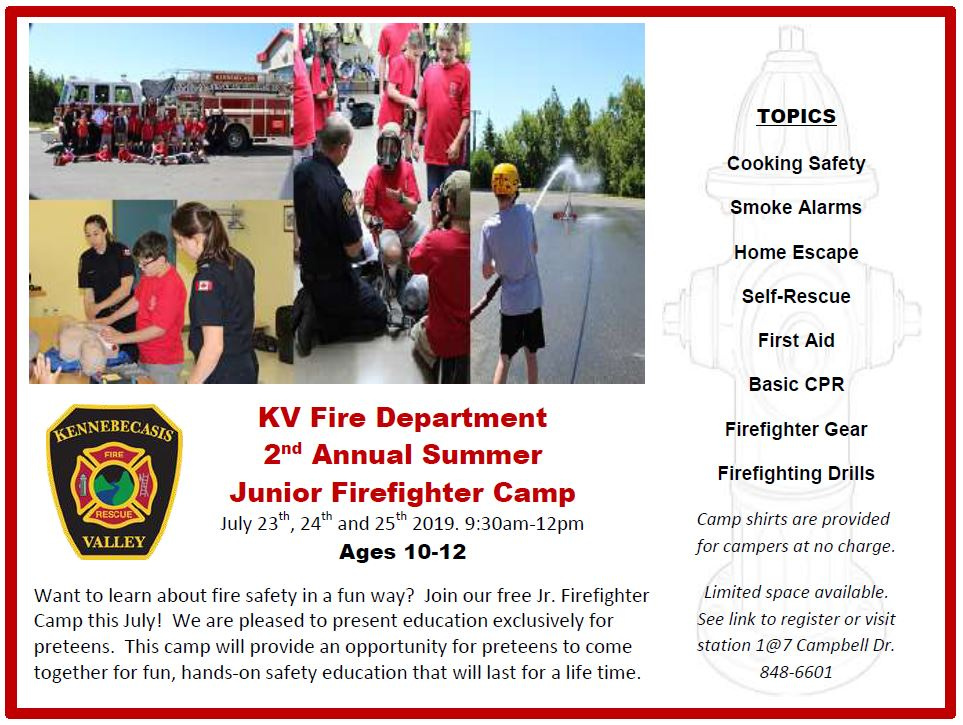 Junior Firefighter Camp

Our 2nd Annual Junior Firefighter Camp is all set for July 23rd, 24th, and 25th from 9:30 am until 12:00 pm for children aged 10 to 12.




Children of this age range are beginning to learn how to be independent at home and begin coming home from school alone and/or spend increasing amounts of time unsupervised.




Our Junior Firefighters can expect a new hands-on activity as well as life safety education each day of camp. The title "Junior Firefighter" allows us to demonstrate some aspects of the firefighter profession while at the same time adding in safety information, i.e. cooking safety and home escape planning.




Space is limited and parents/guardians are required to submit a completed registration form by June 17th to Division Chief Mike Boyle by email at mboyle@kvfire.ca or in person at 7 Campbell Drive.




Registrations will be accepted on a first come, first serve basis.




The registration form is available at Station 1 or by following the link below:




http://bit.ly/2019firefightercamp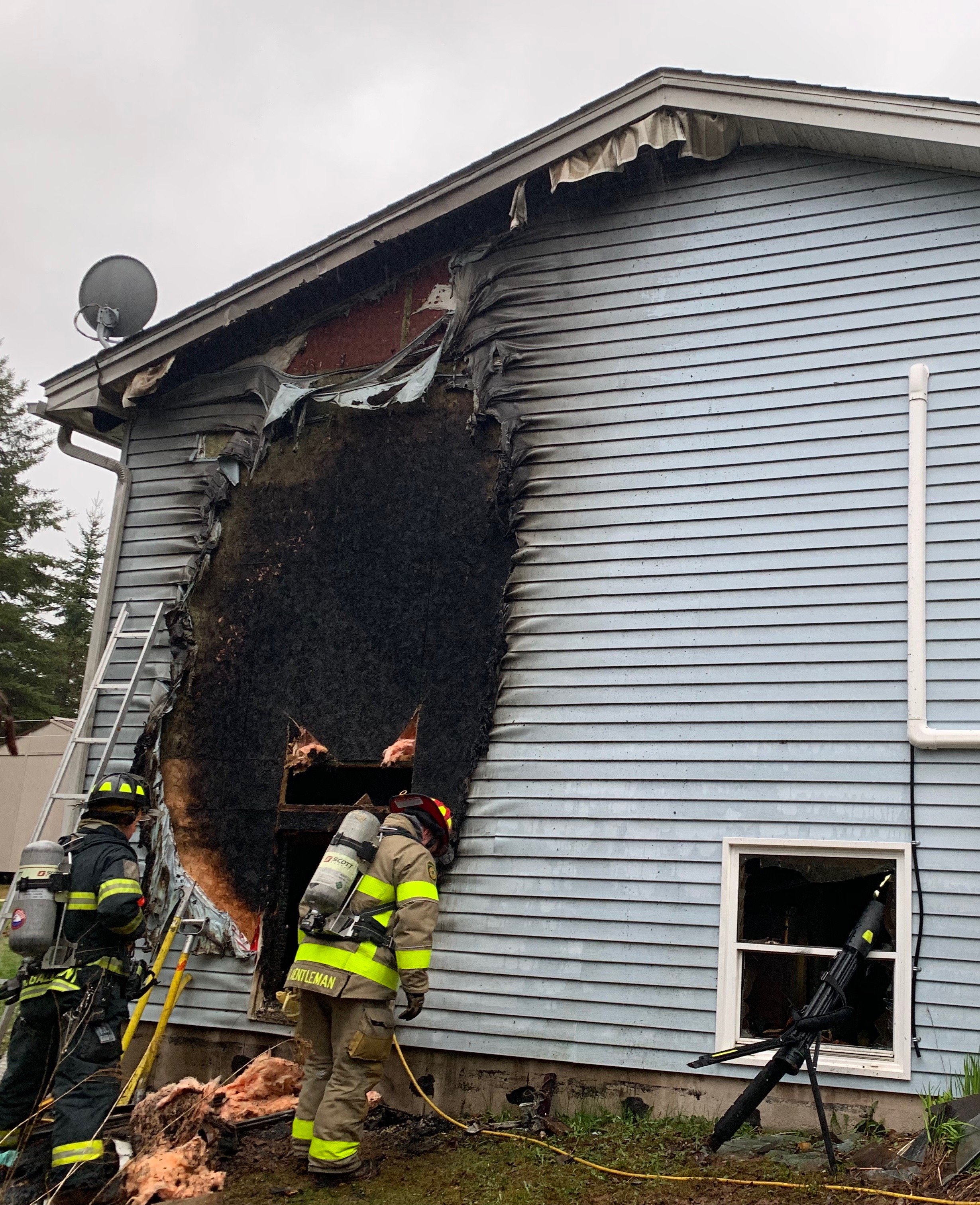 Fire destroys Quispamsis family's home
Around 6 pm Tuesday evening, firefighters were dispatched to a fire on the Chamberlain Road in Quispamsis. On arrival, firefighters encountered fire and heavy smoke in the home. Initial reports indicated that there may have been someone trapped in the basement however after searching the home firefighters confirmed that the house was empty. However they did find the family dog which had perished in the fire.
The home had significant smoke and fire damage. The homeowners were away when the fire occurred and are staying with friends.
Firefighters remained on scene for approximately four hours and the cause remains under investigation.


Finance Administrator (20 hours/week)

The Kennebecasis Valley Fire Department Inc. is seeking a qualified individual to assume the responsibility of Finance Administrator. This is a part-time position that offers a flexible schedule and the ability to perform some of the work off-site.
The Finance Administrator will be responsible for managing accounts payable, accounts receivable, completing payroll and maintaining appropriate financial documentation through an organized system of filing. Other responsibilities will include producing monthly financial reports and year end statements, invoice processing and payment, budget planning, interpretation of the Collective Agreement, maintaining records of paid and unpaid leaves, managing employee benefits and pension and other financial reporting as required.
QUALIFICATIONS & SKILLS:
Post-Secondary Degree or Diploma in Business Administration, Finance, Accounting or other related field.

Strong working knowledge of accounts payable and accounts receivable functions.

Experience with budget, accounting, and reporting systems.

Sound analytical thinking, planning, prioritization, and execution skills.

Ability to respond appropriately in pressure situations with a calm and steady demeanor.

Able to effectively communicate both verbally and in writing.

High standard of professionalism and attention to detail

Strong computer skills including Sage (Simply Accounting) and Microsoft Office

Ability to work independently, exercise sound judgment and maintain confidentiality
QUALIFIED CANDIDATES ARE INVITED TO SUBMIT THEIR RESUME AND COVER LETTER TO:
Fire Chief Bill Ireland 7 Campbell Drive Rothesay, N.B. E2E 5B6
Or by Email to: admin@kvfire.ca
APPLICATION DEADLINE IS MAY 31, 2019.
We thank all applicants and advise that only those selected for an interview will be contacted.
2018 Annual Report
From floods to radio systems, 2018 was a significant year for the KVFD. Have a look back at 2018 by reviewing our annual report.
Annual Report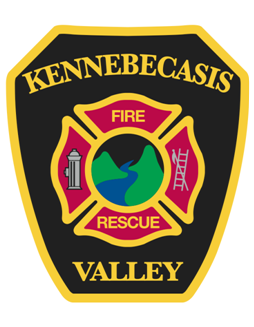 Fire Damages Home in Quispamsis
February 11th, 2019
A home on Sunrise Drive in Quispamsis had significant fire and smoke damage after a fire early Sunday evening. Firefighters were dispatched around 6 pm after a passerby noticed smoke coming from the home. After making entry they found the kitchen heavily involved in fire and extinguished it quickly, however the home had smoke damage throughout.
No one was home at the time of the fire and there were no injuries. 10 firefighters were on scene for 3 hours to complete overhaul of the home.
The cause of the fire was accidental.
Joint Mental Health Initiative
February 4th, 2019
The Kennebecasis Valley Fire Department, in partnership with the Kennebecasis Firefighter's Union, is pleased to announce the launch of its Joint Mental Health Initiative. This initiative, with a simple goal of keeping our members healthy, has four main areas of focus including both preventative and reactive measures.
These areas include prevention (stigma, resiliency, education, workplace culture) emergency response (during and post incident), organizational crisis, and individual issues ranging from family issues to PTSD.
With support from our IAFF Peer Support members, our Chaplain, Dr. Bruce Smith, and members of our management team, the department is proud to support our members with this initiative. Throughout the month of February, the department will be delivering a "Road to Mental Readiness" refresher course to our members and hosting Michael Johnston, founder of Hope for Heroes Canada, to discuss PTSD.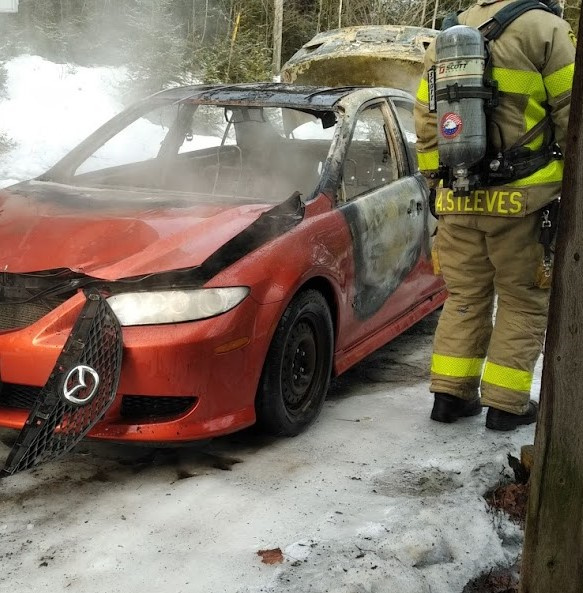 Busy Weekend for KVFD Firefighters
January 28th, 2019
Friday night began a busy weekend for KVFD firefighters with an accident on Highway 1 and at the same time a smell of gas in a home in Quispamsis. On Saturday in French Village, a car was destroyed by fire and damaged a nearby garage. Later that afternoon, Tank 1 assisted Hampton Fire Rescue with water supply for a fully involved garage fire. Saturday evening firefighters assisted the Kennebecasis Regional Police with scene lighting and an area search while they searched for a missing person in Rothesay.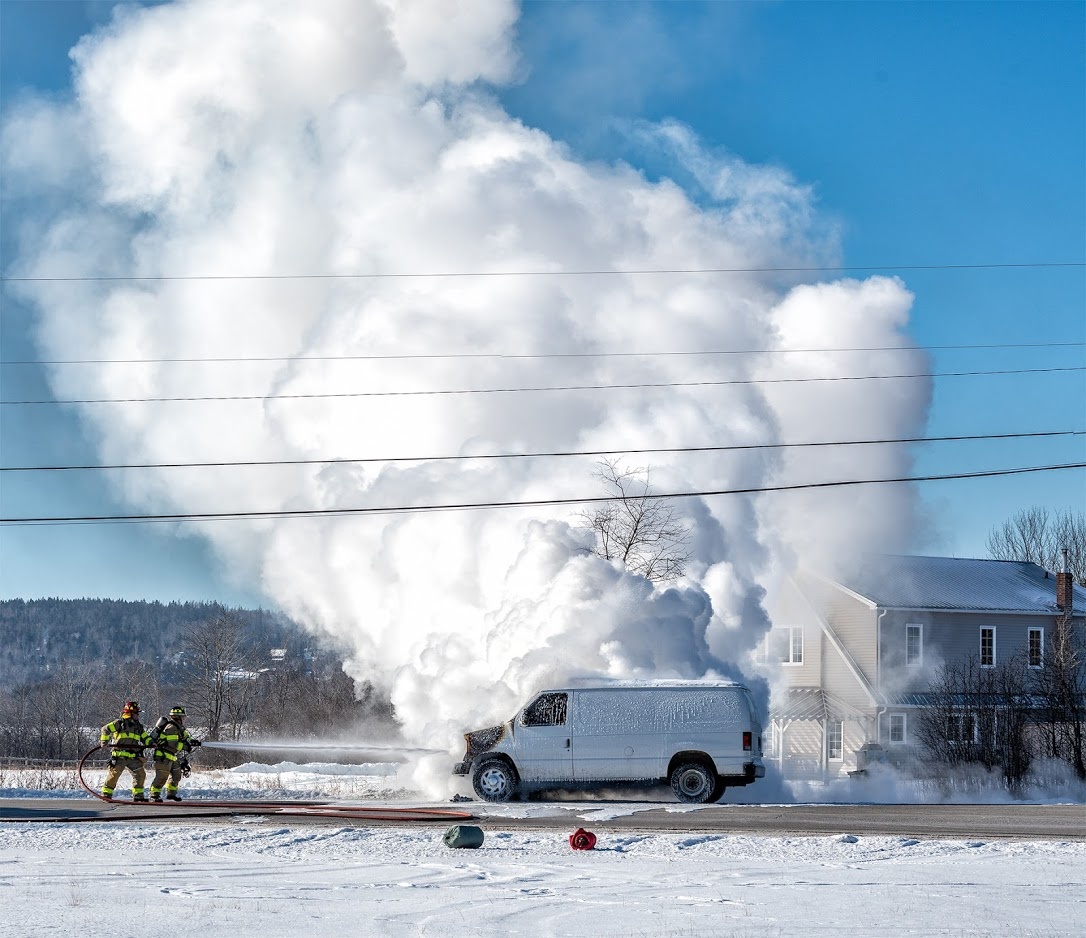 Van Damaged by Fire in Quispamsis
January 14, 2019
The KVFD was dispatched for a vehicle fire on the Hammond River Road in Quispamsis just after 11 am today. The engine compartment of a utility van was fully engulfed in flames and it was extinguished quickly by the responding firefighters. The cause is under investigation.
Shortly after, firefighters responded to a dumpster on fire on Sierra Avenue in Rothesay.

Photo credit: Paul Wood